It Looks Like Mariah Carey Has Already Found a New Bae
Mimi's bounce-back game is strong.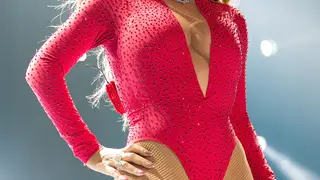 Mariah Carey may have lost a few relationships in her lifetime, but one thing you won't catch her losing is a wink of sleep.
By the looks of her bae-cation with Bryan Tanaka, you can actually expect quite the opposite. 
After the Hollywood A-list starlet called it quits with billionaire mogul James Packer, it clearly hasn't taken her long to ditch the naysay and grab her groove back with Tanaka, who is also an on-tour backup dancer for Mimi.
Spotted on a sunny, sandy beach-clad vacation, the pair was pictured joyously soaking up Hawaiian sun as eyewitnesses tell ET that she "was in a great mood, laughing and giggling most of the time." In the photos, the "We Belong Together" songstress appears indulged with affection as she and Tanaka share kisses and play-fight across the beach's shore.
"They were on the beach until it became pretty dark," the source reportedly told ET. "[They] really enjoyed the sunset."
Such a breezily gleeful Mimi is especially good news and makes the most sense after her clearly unbothered reaction to her ex-husband Nick Cannon's baby news. Though she admitted she was one of the last to find out, she encouraged nothing but support for him and his new addition.
Now that's what we call an emancipation of Mimi.
Peep the heart-eyed emoji beach vibes with Mariah and her new boo below.