'Real Housewives Of Atlanta' Tried To Cast Two Members Of This Iconic Girl Group And Got Rejected
This could've definitely shaken things up.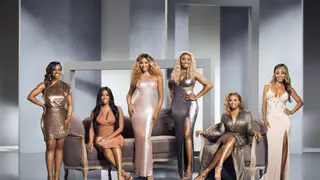 The Real Housewives of Atlanta cast has had its fair share of shakeups over the past couple of seasons. Turns out, two very famous women were asked to join the show: TLC members T-Boz and Chilli.
During a recent interview with Entertainment Tonight, the ladies opened up about turning down the opportunity to join the cast of the popular reality TV franchise.
"This is the thing, I don't play like that," T-Boz, 49, said of the Bravo series. "Like, I'm not arguing, I'm too old to be arguing and first of all, I don't argue with nobody I don't care about. If I care about you, I will take the time to do this. But I'm not arguing with no grown women. I'll end up going to jail for real. Like, I don't do that."
Showing that she still has her band mate's back, Chilli, 48, added, "And I wouldn't be able to bail her out because I would be right there with her."
T-Boz even shared that the RHOA producers were allegedly so determined to get her to sign on the dotted line that they approached her four times — each time, she declined.
Though the duo won't be holding peaches anytime soon — or ever, for that matter — they will be taking their talents to Broadway, where they plan on bringing their story to the stage.