Sha'Carri Richardson Dramatically Removes Iconic Orange Wig Before 100m US Championship Comeback
After Friday's (July 7) 100m win, the 23-year-old posted the fastest time in the first round of the women's 200m Saturday.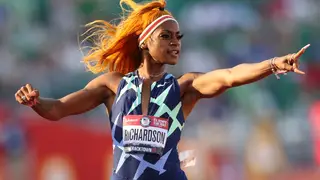 Richardson shocked fans when she whipped off a bright orange wig before running the 100m race on Friday (July 7) at the U.S. Track and Field Championships in Eugene, Ore., according to PEOPLE magazine.
The track star was wearing braids with a few loose tendrils that fell into her face and she pushed them back in determination as she prepared to run her race.
As the whole thing was happening, the sportscasters were heard saying "Oh, wow" and "Look out! She means business," the report notes.
Richardson sprinted her way into first place during the 100m race with a time of 10.82 seconds. She won the national title in that race and is paving her way to an appearance at the 2024 Paris Olympics.
The following day, Saturday, July 8, 2023, Richardson won the 200m race with a wind-assisted time of 21.61 seconds (+2.6 m/s wind), according to The Dallas Morning News. The meet record was also 21.61 seconds, set by Gabby Thomas on June 26, 2021, but that was 'wind-legal,' according to the outlet.
Richardson burst onto the national scene in 2021 when she earned a spot on Team USA's track and field team for the Tokyo Olympics after winning the 100m race at the U.S. Olympic track and field trials in Eugene, Oregon, in June 2021.
However, just a month later she was suspended from major events after testing positive for THC. She said that she used marijuana to cope with learning about her biological mother's death.
On Friday, Richardson told NBC News in a post-race interview "I'm ready, mentally, physically, and emotionally, and I'm here to stay," she said. "I'm not back. I'm better."