When Sports Were More Than Sports: 2021's Most Important Sports Moments
Naturally there were triumphs and failures on the court, on the field and on the track. But 2021 didn't fail in extreme examples of this.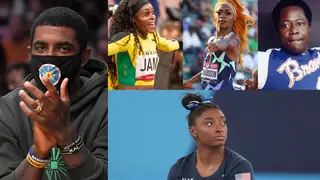 In 2021, the champion athletes that we all admire and love showed their human sides, advocating for justice, for better support for mental health or even taking stands that proved unpopular and even questionable. There were also some pretty bad crashes and cringeworthy moments in the mix, too. In other words, everything we expect from the sphere of athletics and the athletes we follow every day.
Kyrie On The Bench Without The Jab

"I am doing what's best for me," said the former Rookie of the Year, who lost about half of his $35 million salary by refusing to vaccinate. "It's not always about the money. It's about choosing what's best for you. You really think I want to lose money?"

As of this writing, Irving returned to the Nets, but to play only in road games, which would allow him to circumvent rules in New York that prohibit him from playing and practicing in Brooklyn.

A Tale of Two Sprinters

The highs and lows of competitive sports both showed up in the story of sprinter Sha'Carri Richardson, 21, she of outspoken spirit and ever-changing hair color, who went from potential gold medalist by winning the 100-meter race in the U.S. track and field Olympic trials to missing the games altogether. The cause: a positive test in June for THC, the active chemical in marijuana. Richardson said she'd used the drug to cope after the sudden death of her biological mother just days before the trials.

Those angered at the decision by the U.S. Anti-Doping Agency noted her positive test was completed in Oregon, where marijuana is legal. Richardson went on to not exactly endear herself when, through social media rhetoric she boasted about her track prowess, then came in dead last at the Prefontaine Classic in Eugene, Ore., after which she dropped out.

The winner of that race was her rival Jamaican sprinter Elaine Thompson-Herah, 29. The world came to agree in July at the Tokyo 2020 Summer Olympics when she won the women's 100-meter race in 10.61 seconds, edging out two-time former champion  and fellow Jamaican Shelly-Ann Fraser-Pryce and beating the record set by the late Florence Griffiths Joyner by a hundredth of a second. The feat made Thompson-Herah the fastest woman alive and the second overall fastest woman in history, behind Joyner.

The Best To Ever Do It

Aaron came out of poverty in Mobile, Ala., and excelled in baseball and business despite racism and hate email. He debuted in 1954 at the age of 20 for the Milwaukee Braves and 20 years later, surged past Babe Ruth when it came to all-time home runs, a record he held for 33 years.  He was inducted into the Baseball Hall of Fame in 1982 and in 2002, received the Presidential Medal of Freedom from President George W. Bush. 

After retiring from baseball, he held executive roles with the Atlanta Braves. In one of his last public unselfish acts, he received a coronavirus vaccine and implored Black Americans to do the same.

Former President Jimmy Carter called Aaron a personal hero. "A breaker of records and personal barriers, his remarkable legacy will continue to inspire countless athletes and admirers for generations to come," Carter said.

Simone Biles Had Legit Reasons

The public thought that gymnastics G.O.A.T., four-time Olympic gold medalist, and America's darling Simone Biles, 24, would come out of the summer games at Tokyo with enough bling to fill a showcase room, But instead, she stunned the world when she suddenly pulled out of the gymnastics floor competition. She blamed a phenomenon called "the twisties," which robs gymnasts of their frame of reference when they are midair. But later, Biles dropped out of the finals, saying she needed to take care of her mental health. The world figuratively wrapped its arms around her, supporting her decision to forfeit a competition that was her training focus for years and thus broadening the public conversation on a taboo subject.

"At the end of the day, we're human too," Biles told the Associated Press of champion athletes. "We have to protect our mind and our body rather than just go out there and do what the world wants us to do."

Antetokounmpo Is Pronounced: "Champion"

Two-time NBA regular MVP and one-time All-Star Game MVP Giannis Antetokounmpo led the Milwaukee Bucks in July to their first title in 50 years.

In Game 6, the competition against the Phoenix Suns that pushed the Bucks over the bar, Antetokounmpo finished with 50 points, 14 rebounds and five blocks. He scored almost half of the Bucks' 105 points against the Suns' 98 points, leading to his being named Finals MVP.

Antetokounmpo's performance put him in the same league as legends Michael Jordan and Elgin Baylor, according to statisticians. Fans have embraced  Antetokounmpo, who grew up in poverty in Greece and sends money home to his family.

Extra Mention

A Further Look At Mental Health

In May, tennis star Naomi Osaka also broadened the discourse on mental health when she dropped out of the French Open, saying she'd battled long bouts of depression since clinching the U.S. Open title in 2018 and she needed to take some time for herself. She accused officials of the event in Paris of "disregarding athletes' mental health."

Osaka's announcement came one day after the 24-year-old athlete was fined $15,000 for not taking part in a mandatory press conference. Four-time Grand Slam champion

"I think now the best thing for the tournament, the other players and my well-being is that I withdraw so that everyone can get back to focusing on the tennis going on in Paris," Osaka said on Instagram.