5 Things We Learned About Tory Lanez Trial This Week
Megan Thee Stallion and her former best friend Kelsey Harris took the stand this week in Lanez's assault case.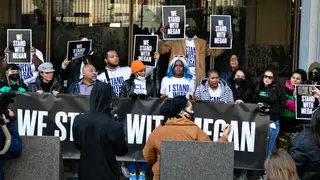 It was quite a week for everyone involved in Tory Lanez's trial.
The Toronto rapper is accused of shooting Megan Thee Stallion after a party in July 2020. This week saw witness testimony from Megan on Tuesday (December 13) and her former best friend Kelsey Harris on Wednesday and Thursday.
A wide range of emotions spilled out in Los Angeles Superior Court with the Houston rapper becoming visibly shaken and agonized over having to relive the details of what happened in the SUV on July 12, 2020, and a detached Harris, who mostly answered questions with denial, amnesia or one-word answers.
We also learned more about the details of what happened that day and key takeaways from a legal procedure standpoint. Here are 5 key things we learned this week from Tory Lanez's assault case.
Prosecutors Presented Text Messages From Harris To Lanez's Bodyguard Justin Edison

As part of their case against Lanez, the prosecution, on Tuesday, focused on text messages sent from Harris to Edison reading "Help," "Tory shot Meg," and "911." The court was also shown a text from Lanez to Megan, reading in part, "S**t should have never happened and I can't change what I did."

Deputy District Attorney Alexander Bott also played a portion of a voicemail in which Tory apologized and acknowledged he was drunk at the time of the shooting, but did not admit to shooting the gun that struck Megan.

Kelsey Harris Invoked Her 5th Amendment Rights Several Times

During her court appearance, Harris consulted with her attorney, pondering whether to invoke her Fifth Amendment rights. She was then granted use immunity, which prevents the use of her testimony in this case to prosecute her for a crime, but doesn't mean they are declining to prosecute her for any criminal conduct they become aware of. She then noted that it was a "ridiculous" notion to consider her to be Megan's shooter.

Lanez Allegedly Assaulted Kelsey Harris After He Allegedly Shot Megan Thee Stallion

On Friday, the jury reportedly heard the September 2022 statement made by Kelsey Harris to prosecutors during which she admitted witnessing Lanez shoot Megan in the feet. Los Angeles Times reporter James Queally, who has been attending the court proceedings all week, tweeted that the tape revealed that not only did Harris make that admission, but also claimed the Toronto rapper "physically assaulted" her after alleged shooting by "pulling and dragging on her hair."

Harris Denied She Took Any Bribe From Tory Lanez In Exchange For Her Silence

During her testimony on Thursday, Kelsey denied she took hush money from Lanez in exchange for her silence. This revelation was also backed up by her September 2022 statement to prosecutors, which was played to the jury on Friday, that reportedly divulged that there was a discussion about a bribe for Harris' silence but there was never an explicit offer made.

The Fight That Allegedly Took Place Prior To The Shooting Was Far More About Career Status Than Sexual Relationships, According To Harris

Los Angeles Times reporter James Queally tweeted on Friday, after hearing the tape of Kelsey Harris' September statement to prosecutors, that the argument that lead to the shooting had much more to do with their careers than about sexual encounters between members of the trio.

He also notes that Harris "vented her frustrations" that Megan didn't protect her in her initial press statements, leaving her out to dry over rumors that she was the person who shot Megan.