Collins: Support After Coming Out "Incredible"
Jason Collins opened up about his letter in an interview with ABC's George Stephanopoulos.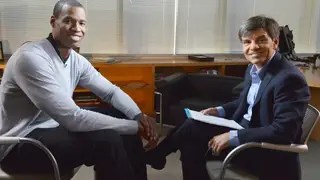 Jason Collins said he has gotten "incredible" support since coming out as the first openly gay player in one of the four major U.S. pro sports leagues, and hopes he may have made the path easier for others to follow.
Collins sat down for an interview that was aired by ABC's Good Morning America on Tuesday, one day after the veteran NBA center revealed his sexuality in a first-person story posted on Sports Illustrated's website.
"I think, I know, in my personal life, I'm ready and I think the country is ready for supporting an openly gay basketball player," Collins told ABC's George Stephanopoulos.
ABC aired the interview in two segments, with Stephanopoulos asking Collins in the second portion if he hoped that other players will follow his example.
"I hope that every player makes a decision that leads to their own happiness, whatever happiness that is in life," Collins responded. "I know that I, right now, am the happiest that I've ever been in my life."
Collins said he went through something akin to a 12-step program while deciding to come out, dealing with emotions such as anger and denial.
"But when you finally get to that point of acceptance, there's nothing more beautiful than just allowing yourself to really be happy and be comfortable in your own skin," Collins said.
Dozens of NBA players sent messages to Collins after the story was posted Monday, many doing so through social media. The support didn't stop there, with President Barack Obama also calling to offer his support.
"It's incredible. Just try to live an honest, genuine life and the next thing you know you have the president calling you," Collins said. "He was incredibly supportive and he was proud of me, said this not only affected my life but others going forward."
Collins said he does not know of any other gay NBA players. He also told ABC that he was overwhelmed by the reaction of tennis legend Martina Navratilova, who came out in 1981 and called him a pioneer after he went public with his story.
"I look at her as one of my heroes, the dignity and class that she's lived her life and all that she's achieved in her career," Collins said. "She is my role model. Hopefully going forward I can be someone else's role model."
Collins averaged 1.1 points this season for the Boston Celtics and Washington Wizards. He will be a free agent this offseason, and plans to continue his career.
"From my teammates, I'm expecting support because that's what I would do for my teammates," Collins told ABC. "A team is like a family. The NBA is like a brotherhood. And I'm looking at it like we all support each other, on and off the court."
Asked by Stephanopoulos what his story could mean to youth who play basketball and are worried about their futures because they are gay, Collins offered a simple piece of advice.
"It doesn't matter that you're gay. The key thing is that it's about basketball," Collins said. "It's about working hard, it's about sacrificing for your team. It's all about dedication. That's what you should focus on."
In the second part of the ABC interview, Collins discussed what it was like to come out to his family and people closest to him. In the SI piece, Collins said that the first relative he came out to was his aunt, Teri Jackson, a San Francisco Superior Court Judge — "so I guess she's good at reading people," Collins told ABC.
"When you keep telling yourself a lie, at some point you buy your own cover story, like a CIA spy or something," Collins said.
His own twin brother, Jarron Collins, had no idea about his brother's orientation.
"I am really good at playing it straight," Jason Collins said, laughing at his own joke. "Maybe he needs to hang out with my aunt a little more, get a discerning eye like she has."
Collins told Stephanopoulos that he one day hopes to be married and have children, but currently describes his relationship status as single.
"I tried everything in the book as far as trying to convince myself to lead the life that you should," said Collins, who dated women in the past and was once engaged. "Calling off the wedding was obviously a tough decision, but it was the right one, because I knew I wasn't getting married for the right reasons."
(Photo: AP Photo/ABC, Eric McCandless)