Pregnant Serena Williams and Daughter Olympia, 5, Pose Together on European Vacay
The legendary tennis star is on a babymoon with her husband and daughter.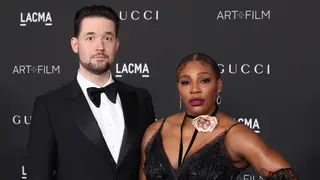 Serena Williams and daughter Olympia struck some poses on Instagram this week while on a European vacation.
Williams, Olympia, and her husband, Alexis Ohanian, are on a babymoon before the arrival of their second child later this year.
In the pic, Williams looks content with her hand resting on her baby bump with a Green Day hat resting nearby. She captioned the picture, "So take the photographs and still frames in your mind," a lyric from the band's hit song, "Good Riddance (Time of Your Life)."
According to People, Williams also shared a few additional pictures on her Instagram Story. Including one of her dancing in front of the Eiffel Tour in Paris. "Paris, France…"
Ohanian has also been sharing pictures from the European vacation in one he wrote, "OOO: Took the fam on Babymoon 2. She asked for a selfie so I took advantage of the mirror."
The couple has also visited Italy, where they went to the famed Uffizi Gallery on a private tour.
"She said she wanted to see some art, so...," Ohanian wrote in a photo caption. "Grazie, Uffizi, for letting me book an after hours private tour of some amazing works... Michaelangelo... Da Vinci... Botticelli... Caravaggio 😤 we all left inspired," he continued. "Last time I visited was 20 years ago as a broke college student among 1,000s of visitors—this was a surreal night."
The couple announced she was pregnant with their second child at The MET Gala last month.
But, before they revealed the pregnancy to the world, they shared it with Olympia, who had been "praying" for a baby brother or sister.
Ohanian responded, "She's more of a jock than a nerd at this point. But I have, thanks to AI, really gotten her into tech through storytelling."
He continued, "And so the way we do bedtime stories is actually by prompting Chat GPT and saying, you know, I'll ask Chat GPT see give me a bedtime story appropriate for a 6-year-old. That will take 10 minutes to read."