UVA Mass Shooting: What We Know About The Three Victims
Football players Devin Chandler, Lavel Davis Jr. and D'Sean Perry's families have received an outpouring of support and prayers.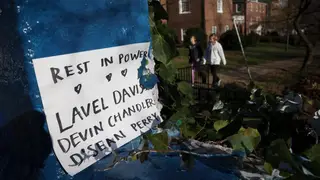 A mass shooting at the University of Virginia has resulted in three football players being shot and killed.
University of Virginia president Jim Ryan identified the three players as Devin Chandler, Lavel Davis Jr., and D'Sean Perry. Two other people were also injured during the alleged shooting, one is in critical condition and the other is in good condition.
Dorchester County School District 4 said in a statement about Lavel Davis Jr.'s death: "We are deeply saddened at the loss of one of our former Wolverine family members, Lavel Davis Jr. Lavel was an outstanding student-athlete in Dorchester County School District 4, who went on to represent his community at the University of Virginia playing Division 1 football. Lavel's determination to succeed and devotion to family united those around him and made all those who encountered him better for knowing him.

The statement continued, "Dorchester School District 4 extends our deepest condolences to Lavel's family, friends, teammates and his community. Please continue to keep the Davis family and the families of the other victims in your thoughts and prayers. This is a tremendous loss; Lavel's legacy will never be forgotten."
According to CNN, he was a 23-year-old 6-foot-7-inch receiver with 16 catches for 371 yards and two touchdowns on the year, good for a stellar 23.2 yards per catch. A May 2021 video on UVA Football's Twitter, the Dorchester County, S.C. native said he enjoyed 90s movies, Shakespeare plays and the Bible. He says in the video,  "Virginia is the perfect place for anybody who wants to work hard and be great. At Virginia, it's way bigger than football."
A GoFundMe page has been created to assist the family with funeral expenses.
CNN reports D'Sean Perry was a junior and a linebacker for the University of Virginia. Michael Haggard, an attorney for the family, said in a statement, "On behalf of D'Sean's parents, Happy and Sean Perry, and their entire family, we thank the South Florida and Charlottesville communities for the outpouring of support during this impossibly tragic time."
The family declined to speak publicly. The Miami native played 15 games over the last three seasons.
Devin Chandler was a junior wide receiver for UVA who transferred from the University of Wisconsin. Interim head coach Jim Leonhard for the University of Wisconsin said in a statement, "He had a lasting impact on his teammates, even after he left UW, which is a testament to the type of person he was. His personality was infectious and he was a joy to be around. Our team is hurting for him and his family. I want to extend my condolences to his family and the Virginia football family."
The family has not released a statement as of yet.
According to CBS News, local police have arrested former UVA walk-on football player Christopher Darnell Jones Jr. Police say he was the lone gunman.