Black America Deserves More From Popeyes Than Just Great Chicken
A viral hashtag once again proves we are devaluing African-American social currency.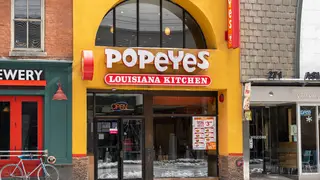 Popeyes released its long-awaited chicken sandwich last week, and America and Black Twitter were here for it. Almost immediately, digitally connected Black America weighed in on the sandwich's taste, availability and inevitable decimation of the reigning king of fast food chicken, Chick-fil-A. Largely driven by Black Twitter, pictures, memes and videos flooded social media for hours, causing the sandwich to sell out all over the country and rival Chick-fil-A's digital team to turn chicken fingers to Twitter fingers. This was to the tune of almost $25 million in free marketing for the new chicken sandwich contender. All without needing the resources of one Black media outlet. 
Black social media went hard. Folks took shady shots at the Chick-fil-A throne. Even Wendy's and Bojangles caught the hands of Black Twitter for daring to challenge the new kid on the chicken sandwich block. Two weeks and literally hours of TV news and radio coverage later, the social media hashtag #ChickenSandwichWar still wages on. While watching it was big fun for some of us, it turned out to be really big business for Popeyes and, some would argue, Chick-fil-A. Apex Marketing estimates the roughly $23 million in free advertising Popeyes earned wasn't just on social media, but it spanned TV, radio, digital and print media. All of this was largely fueled by the African-American social media influence. We spent serious social currency on this brand. 
Twenty-eight percent of Twitter users are Black, and we drive almost all trending conversation on the platform. For days, the sandwich war was trending at a higher rate than the rainforest fires in Brazil. Black Twitter has enormous power to inform and mobilize. For example, Black Twitter conversations is how we got body cameras on police, mainstream coverage of the Flint water crisis, the birth of the #MeToo movement and 2015's #OscarsSoWhite movement. Yet we still haven't delved into the monetary value of our social currency to brands. We not only create culture, but we make people, products, music and TV shows incredibly popular and wildly profitable.
Our tweets, videos and posts save them millions of dollars in advertising. Remember the one video for the Patti LaBelle sweet potato pies? James Wright's Facebook video got 8.5 million views in less than a week, and Wal-Mart was selling one pie per second the weekend that video dropped. The retailer told NPR that within a week, they were working to secure another two million pounds of sweet potatoes to keep pace with sales. 
What is Popeyes going to do for Black America in exchange for the tens of millions of dollars of social capital Black consumers gave them? What are Black people prepared to ask for?
What brands do with the money we help them make is incredibly important. Chick-fil-A notoriously has given millions of dollars to anti-LGBTQ organizations that blame, shame and discriminate against the queer community. Even as they have recently claimed to have no political and social leanings, they gave close to $2 million in recent years to organizations with LGBTQ discrimination written into their policies and practices.
Is it enough for an organization simply to do no harm, especially if the chicken and bun taste like magic? Do brands owe the consumers who support and champion them some measure of reciprocity? In exchange for our $23 million in digital capital and untold millions of dollars in profits from standing in line for chicken sandwiches, Black consumers have the right to ask some fundamental questions.
Does the CEO of this company have any Black executives reporting to him/her?
Does this company support Black advocacy groups like NAACP, NUL, BLM?
Does the company support political issues that protect the Black community?
What percentage of franchise owners are Black?
Does the company spend money with Black vendors and entrepreneurs?
Does the company hire and promote Black employees in the stores and at the corporate level?
Does the company support Black community events, education initiatives and Black-owned platforms with advertising dollars?
Chicken sandwich memes and videos hit different when you see how valuable they are and how hard we unknowingly worked for free to add millions to corporate profits.
Andrew McCaskill is a data analyst and a SiriusXM contributor on the intersections of culture and economics.