Beyoncé Shuts Down The Internet By Releasing Photos Of Her 5 Different Lil Kim Halloween Costumes
Queen Bey as the Queen Bee.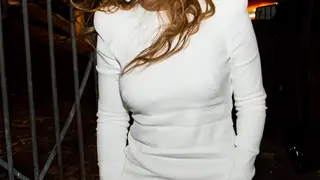 Just when you thought Halloween was over, Beyoncé pulled out her very own bag of treats. The new mother of three took to her personal website sharing high quality photos of five epic Halloween costumes inspired by none other than the original Queen Bee, Lil Kim.
Paying homage to the music icon, Bey gushed, "hip hop would not be the same without our original queen bee," before unloading a series of spot-on recreations.
First up, the Lemonade songstress ditched her trademark blonde tresses for a half up half down brunette hairstyle she sported while recreating Lil Kim's look in Missy Elliott's "The Rain" video. Bey pulled out all of the stops mirroring Lil Kim's look down to the matching Chanel suspenders. She even posed for a few pics alongside her hubby, Jay-Z, who dressed as Kim's former lover, collaborator and fellow hip hop legend Notorious BIG.
Next, Bey donned a blue wig with the Chanel logo on the bangs, matching blue contacts and classic '90's overlined lips as she channeled Kim's look during an appearance in a 2001 issue of Manhattan File Magazine.
Tapping into Kim's ensemble in a 2000 edition of Today's Black Woman, Bey paired a blonde bob wig with blue lingerie and a royal blue fur.
Slaying Lil Kim's look at the 1999 Source Hip Hop Music Awards, she sported a fur thong with a matching fur clutch and bracelets over a dazzling jumpsuit.
Lastly, Beyoncé rocked platinum cropped cut wig as she paired a neon green fur and bikini with fishnet bodysuit killing Lil Kim's outfit at the 1997 No Way Out tour.
Like Bey's site says, "It ain't over 'till Yonce."