Riley Burruss Responds To Comments That Her Body Looks 'Snatched' In A TikTok Video
See the video that's going viral on social media.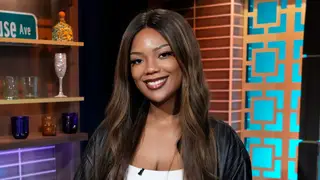 Riley Burruss uses her TikTok to highlight her lifestyle must-haves, flex her dance moves, and overall help fans get to know her better! While her fun-filled content has helped her rack up over 200K followers on the social media platform, it just so happens, her weight loss transformation has become a recurring topic of conversation.
Using her platform to combat negative vibes, the eldest daughter of Kandi Burruss recently took to social media to call out those who once posted disparaging comments about her body.
"When my comments change from 'she needs to lose weight' to 'snatched,'" the NYU student wrote in her TikTok video.
This isn't the first time Riley called out those who seemed obsessed with her body. In August, Riley took to TikTok to address pregnancy rumors shortly after celebrating her 20th birthday. "You don't suck in for one photo & all of a sudden you're 3 months along…😭," Riley captioned a TikTok video that has over 340K views.
Kandi also spoke out about the bullying her daughter has received over the years from Bravo fans. The Real Housewives of Atlanta star explained, "I despise it. It bothers me so much. Everybody already knows that Riley dealt with her weight issues growing up in the public eye. People would make comments on her body and say things about her personal look, and it really boils my blood."
She continued, "You can deal with anything for yourself, but you don't want your kids to be bullied online. It's just really terrible."
We're glad that Riley is healthy and happy. Keep shining, sis!