Bun B Speaks Up In Support Of Megan Thee Stallion And Calls Out Misogyny
"This is why Black women are so hesitant to speak against Black men," the UGK legend said during a recent IG session.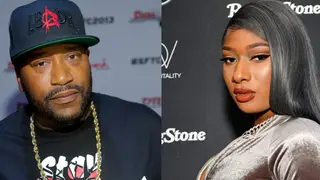 Bun B is speaking up in support of Megan Thee Stallion and Black women after Meg named Tory Lanez as the one who shot her on July 12. The UGK legend took to Instagram Live on Sunday (August 23) to address the shooting incident and the internet backlash Megan has been facing since coming forward and naming her abuser.
"F**k Tory Lanez," Bun B began. "I'm from Houston and if somebody would've done something to Megan in this city, we would've rode."

The Trill rapper called attention to the fact that Megan doesn't have anyone to look out for her best interests. "Megan in L.A. by herself. It's just her and T. Farris. Her mama is gone. Her daddy is gone. Her grandmother is gone," he continued. "All the people that loved her and cared about her unconditionally, that looked out for her, would've protected her ain't there. So, as an OG in Houston, I'm standing up." 

He denounced Tory and anyone supporting him.

"Tory Lanez did some ho a** sh*t. Period. Yeah, I know Tory. I know his manager. I know all of 'em, man. F*ck all that though," Bun B iterated. "If the man is on drugs, get him some goddamn rehab. If the man got mental health issues, get him some therapy. But, you not gon' sit here and shoot this girl, and we not say nothing." 

The 47-year-old also called out people romanticising the situation.

"This is not real n***a s**t. Anytime, a man hurts a woman, that's obsession. That ain't love. That's an obsession, you know what I'm saying? [Tory] had no reason to shoot this girl," Bun B declared before condemning rappers from their home city who are quick to brag out their connection to Megan but haven't spoken up for her. He added that the response to the situation would've been drastically differently if it had involved a white woman.

Bun B also touched on Megan's decision to protect Lanez over her own well-being. During the Aug. 21 Instagram Live session, the 25-year-old rapper admitted that she did not initially tell police that Lanez shot her because she was afraid for his safety and any legal repercussions.

"God bless all Black women because Black women are knowing Black men be in the wrong and they still stand up for Black men," he issued. "This is why Black women are so hesitant to speak against Black men. Black women know how the legal system will treat Black men, they know how white America will treat Black men when they do something wrong and Black women bite they tongue  behind this s**t we do. They put themselves in front us constantly."