Kendrick Lamar: I'm Scared I'll Lose All My Money
K. Dot reveals financial fears, shares Dr. Dre's input on "good kid m.A.A.d. city" follow up with Complex magazine.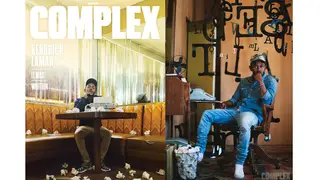 Kendrick Lamar has a financial fear that has stopped him from blowing through millions. The Compton rapper revealed in his Complex magazine cover story that he's afraid to go broke. 
In two years, Lamar has earned around $9 million. He bought his parents a house and helped take care of friends and family, but doesn't do as much for himself. "I've got this thing where I'm scared I'ma lose all my money," he said. 
"I be talking to a few of my partners that's doing they thing. A few of them don't feel the same way but it's like a real deal for me," Lamar shared. "I treat myself every now and then, but for the most part I be wanting to be smart about it. If my music were to stop today, how would I make this stretch for the rest of my life? My kid's lifetime? Hopefully my grandkids. If I stopped today how would I do that?"
The money phobia never completely goes away, he said. "That's always in the back of my head. 'This could be your last moment and your last shot to keep that revenue coming.' I got a lot of people to support, a lot of people to inspire."
Just as he inspires, Lamar has been inspired. He speaks mostly about his parents' influence, and Dr. Dre, who executive produced good kid m.A.A.d city, and will once again step in for the new album. "Dr. Dre is always involved," explained the TDE artist. "He's somebody I can always go in the studio and just vibe with, ask questions about different frequencies, about how snares hit, about how drums is hitting. When you into music, you into all of that. I'm always asking questions so the fact that I can just pick up my phone and ask him anything that I want at any given time about this business, or just life in general, that's a plus with me because that's a very wise man."
Maybe with Dre's help Lamar can finally let go of his fears of losing money and help him increase his revenue. The Beats by Dre mogul is almost a billionaire after all. 
BET.com is your #1 source for Black celebrity news, photos, exclusive videos and all the latest in the world of hip hop and R&B music.
(Photo: Complex Magazine, September 2014)