Questlove Missed Will Smith Slap, Says He Was Meditating In The Audience
"I literally was not present for that whole entire moment," he said.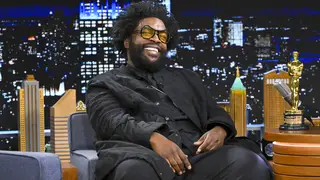 Oscar-winner Ahmir "Questlove" Thompson is sharing his perspective on the Will Smith-Chris Rock slap that took place moments before his major win in the "Best Documentary" category and it's not what many might think.
Appearing on The Tonight Show With Jimmy Fallon, Questlove says that he wasn't "present" during the chaotic incident that occurred when Smith slapped Rock for making a joke about his wife Jada Pinkett Smith but instead was meditating before the category he was nominated in was announced.
"They tell you ahead of time, 'This is your category,'" the musician said. "And so in that moment, you're either going to be full of anxiety or, like for me, I've been doing transcendental meditation the past couple years. And when the commercial break happened I was in my [om sounds]. So when I opened my eyes I didn't realize, 'Why is everyone so quiet?'"
Adding: "I literally was not present for that whole entire moment and as I'm walking to the stage I'm kind of putting two and two together. And I only realized it was a real moment about three seconds before I started speaking words. I was not present at all."
Questlove's documentary Summer of Soul where he worked as the director and producer for the film ended up winning "Best Documentary" at the 94th Academy Awards.
Summer of Soul recounts a celebration of Black culture and music that was buried in history.
Watch his interview on The Tonight Show with Jimmy Fallon below: