Remembering Nelsan Ellis: A Tribute through His Films on the Anniversary of His Passing
The actor passed in 2017 at 39 years old.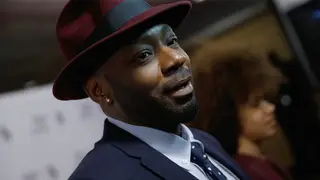 Tomorrow (July 8) marks six years since the entertainment industry lost Nelsan Ellis, a talented and versatile actor whose performances left a lasting impact on audiences. From his breakout role in the hit series True Blood to his captivating presence on the big screen, Ellis was a remarkable actor who immersed himself in diverse roles. In honor of Nelsan Ellis's legacy, we are revisiting some of his most memorable film performances. 
True Blood (2008-2014)

Ellis gained widespread recognition for his role as Lafayette Reynolds in the HBO supernatural drama series. His portrayal of a charismatic short-order cook became one of the show's most beloved characters.

The Express (2008)

Ellis portrayed the role of Will Davis, a teammate of the legendary football player Ernie Davis, in this biographical sports drama.

The Help (2011)

Ellis had a memorable supporting role as a waited named Henry in this drama set in the 1960s civil rights era.

Lee Daniels' The Butler (2013)

Ellis portrayed Martin Luther King Jr. in this historical drama that chronicles the life of a White House butler who served multiple presidents over the years.

Get on Up (2014)

Ellis delivered a captivating performance as Bobby Byrd, the longtime friend and musical collaborator of James Brown, portrayed by Chadwick Boseman, in this biographical drama about the iconic musician's life.

The Stanford Prison Experiment (2015)

In this psychological thriller based on true events, Ellis portrayed Jesse Fletcher, one of the participants in the infamous Stanford Prison Experiment conducted in 1971.

Little Boxes (2016)

Ellis played the role of Mack in this indie comedy-drama that explores themes of race and identity as a family moves to a predominantly white suburban neighborhood.

True to the Game (2017)

In one of his final film roles, Ellis portrayed the character of Quadir Richards, a drug dealer, in this crime drama based on the novel of the same name by Teri Woods.