Man Who Fatally Shot Jacqueline Avant Reportedly Laughed And Bragged About Her Killing
The wife of industry executive Clarence Avant was killed during a home invasion.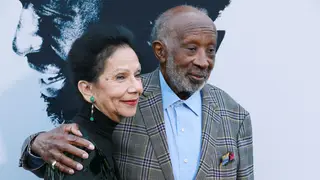 Aariel Maynor, the man who pleaded guilty to murder on Mar. 3 in the death of Jacqueline Avant, 81, the wife of music legend and industry executive, Clarence Avant, allegedly bragged about her death.
Additionally, in another phone call from jail he "laughed" to a female friend about the killing and the publicity, according to the sentencing document.
According to Rolling Stone, Maynor admitted during his open plea in a Los Angeles courtroom that he broke into the couple's Trousdale Estates home in Beverly Hills on Dec. 1, 2021 and used an "assault long barrel pistol" to kill Jacqueline and to shoot at a security guard.
Maynor pleaded guilty to one count of first-degree murder, attempted murder and two counts of burglary. He faces a maximum sentence of 170 years in prison and will be ineligible for parole, the office of Los Angeles District Attorney George Gascón said in a statement.
Surveillance cameras on the property and throughout the city captured Maynor fleeing the scene. He reportedly shot himself in the foot at a different home during another alleged burglary attempt in the Hollywood neighborhood on Dec. 2, the day after the Avant home invasion.
Maynor sentencing is scheduled to be for March 30 at the Los Angeles County Superior Court.
Jacqueline Avant has been a prominent Los Angeles philanthropist over the decades, perhaps most notably for her work with the UCLA International Student Center. She is also the mother-in-law of Netflix CEO Ted Sarandos.
In a statement, the Avant and Sarandos families thanked their community for the "outpouring of love, support and condolences" in the wake of the senseless tragedy.
Clarence Avant, 90, often called the "Godfather of Black Music," was inducted into the Rock & Roll Hall of Fame in 2021 and was the subject of the Netflix documentary The Black Godfather, produced by his daughter, Nicole Avant.
It remains unknown why Maynor targeted the Avant family.
FROM OUR SPONSORS