Black Women Are Reclaiming Their Time In Hollywood
Danai Gurira, Lena Waithe, Tiffany Haddish & Tessa Thompson leave no doubt that the takeover is coming.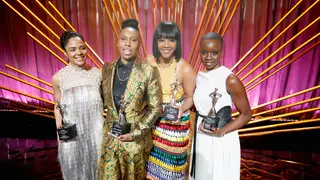 There was no warmer building than the Beverly Wilshire Hotel during the 11th annual Essence Black Women in Hollywood luncheon this past Thursday. Thanks to Ford Motor Company, I had the pleasure of attending the event as their guest and got to witness an outpouring of Black sisterhood and Black excellence. It was incredible to behold not only as a Black woman, but as a Black filmmaker. Many of the women that attended the event are my heroes and they were just as happy and gracious to be there as I was.
Successful Black women from various fields in entertainment came together under one roof to celebrate Danai Gurira, Lena Waithe, Tiffany Haddish and Tessa Thompson. The four women celebrated couldn't be more different yet it said everything about this big cultural moment we're in right now. There is no one size fits all for Black women, for anyone really, but for a long time we saw very specific types of Black women in very specific types of roles. Those days are all but over. We're are in the midst of a cultural storm that consists of Black women playing superheroes, becoming fierce multi-hyphenates and more.

Tessa Thompson acknowledged this moment in her rousing acceptance speech, "I think there's been a real seismic shift. I think when you look at the honorees today, we're not just being celebrated on this stage, but on a global stage. In the past, there was this idea that a black face doesn't sell overseas and then you see Danai in a film that is tearing down that mythology." And Tessa is absolutely correct. If you aren't convinced by the eye test just take a look at the box office numbers: Black Panther, Girls' Trip, Get Out...etc  are all killing it domestically and internationally. It's undeniable that there is a movement brewing and what makes it different from past years is that Black women are leading the charge in this one.

Tiffany Haddish was all smiles during her speech. She had the look of someone who is just happy to be alive and boy was it infectious, "I was here last year back in the corner like 'ima do that one day' and now here I am!" That sentiment was shared across the honorees. They weren't fresh out of the water. All of these women had been chipping away at their craft for years before getting the role or opportunity of a lifetime. They had thought about one day getting an invite to the Essence Black Women in Hollywood luncheon, but instead of using up their speeches to pat themselves on the back they took this moment to speak to the next generation.

"Sometimes I forget what it was like to be that young, to struggle in your own skin that much, to grapple with a system that was clearly not made with us in mind. To be unsure of your place in this realm, of how you will ever find it or how you will ever like yourself, let alone love yourself," said Danai Gurira to many wet eyes. Danai brought the house down with a thoughtful speech that recalled her early days when she was struggling to see herself as beautiful. It was a reminder to all watching that this can't just be a moment, it has to be a movement. Young Black girls need to be celebrated on a global stage for the beautiful, intelligent beings they are.


Lena Waithe was the first to receive the Black Women in Hollywood Ford Vanguard Award. She gave an incredibly impassioned speech, addressing the Black LGBTQIA community, "So many of our Black, gay, lesbian, queer, and trans foremothers and forefather, those that never felt comfortable by their gender, had to hide. Now look at us, still hiding. Hiding because we don't want to lose an endorsement deal. Hiding because we want to be normal. Hiding because we don't want to make white folks uneasy. But most of all hiding because we don't want to make our own people feel uncomfortable. Being born, gay, black, and female is not a revolutionary act. Being proud to be a gay black female is."

The speech put everyone on their feet and once again reminded us of this moment we're in where an outwardly lesbian creative can get on a Black stage, show love to her fiancee and encourage other Black queers to step out of the shadows. It's just different.

At the end of event, I got to say my hellos and congratulations to the honorees. I made it quick, seeing how visibly overwhelmed they were by the many fans and friends that lined up to do the same. I watched as Tiffany, Lena, Tessa and Danai were the very last people to leave the building, making sure to shake hands and speak with everyone. It was this moment that hit me in the gut the most. These women are reclaiming their time in Hollywood and by the same measure giving their time to other Black women. Yes, the sisterhood is felt and it is very real.