Ciara And Russell Wilson Celebrate Son Win's 2nd Birthday at The Happiest Place On Earth!
From taking a ride on King Arthur Carousel to meeting Goofy, Win had the best birthday at Disneyland.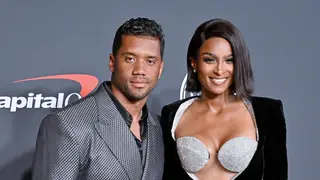 It's hard to believe that Ciara and Russell Wilson's second-born child, Win Harrison Wilson, just turned the big two! The family celebrated the momentous occasion with a visit to the Happiest Place on Earth, Disneyland.
Oozing with joy, she wrote the sweetest HBD post to her sweet boy, saying, "Our precious baby boy Win turned the BIG 2, and I'm so grateful! He's the sweetest, most energetic, and funniest 2-year-old you could ever know. The best little brother! He lights up every room he walks in! @DangeRussWilson, I'm so proud of us! We are blessed! Mommy and Daddy love you so so much, Win!! #HappyBirthday #2."
Ciara and Wilson gave us a sneak peek into their baby boy's celebration, and it looks like Win had the time of his life. The Instagram videos show the family dancing around the park and Win riding Dumbo the Flying Elephant; we are a little jealous that we weren't a part of the fun. Big brother Future, 8, big sister Sienna, 5, and mom and dad sang "Happy Birthday" to Win as he blew out the candles of his Mickey Mouse-ears-shaped birthday cake.
"WIN!!! TWO!!! Glory! Grateful for the anointing over your life! God blessed us with you! You bring so much joy and love to our family. You are destined to encourage, challenge, and make the world a better place! Keep WINNING, young King! Love Daddy & Mommy," the proud dad and NFL champion shared on his Instagram.
It's safe to say that Win enjoyed this magical day in the most magical land, and we love that for him!