Here's Where to Donate to Help Syria
The humanitarian crisis is far from over.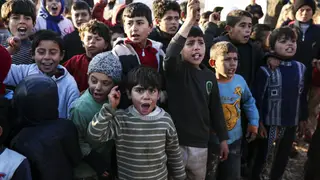 For years, Syria has been besieged with a humanitarian crisis on an unimaginable scale. In the past week, atrocities in the country's largest city, Aleppo, have exploded to a point where the world has finally started to really pay attention — thanks in part to heartbreaking videos from Aleppo's citizens in which they bid their final farewells to the world. The causes behind the conflict are enough to make your head spin, but the essential point is that nearly 500,000 people have been killed, 11 million are displaced,  and the carnage shows no sign of stopping. It's not an exaggeration to refer the civil war in Syria as a genocide.
Today marked a teeny bit of progress; the United Nations is sending monitors into Aleppo to aid evacuations. But it's not without a caveat: Russia, which is backing the forces of Syrian President Assad against rebels, only agreed to the proposition once it was determined that the monitors could only observe evacuations after consulting with "interested parties." This means they could be blocked by either local militias or Assad's forces, and it's yet to be determined if they'll even be able to come into the city before evacuations are complete.
Meanwhile, an estimated 50,000 people still remain in Aleppo. While it's difficult to determine the degree to which charitable organizations can help at this point, it's impossible to look at the devastation and slaughter of Syrian citizens, including thousands of children — which the UN called a "complete meltdown of humanity" — without wanting to do something. So below is a list of charities you can donate to to help the people of Aleppo. Every little bit helps.
Volunteer Locally

This handy website lets you plug in your address, giving you a list of nearby organizations aiding refugees. From there, you can figure out exactly how and where you want to volunteer or donate.

Doctors Without Borders

It's an obvious choice for a reason. Doctors Without Borders, or Médecins Sans Frontières, has been providing consistent aid to Syria despite the fact that one of their hospitals in Aleppo was hit by an air strike that killed 14 people. Their work in an increasingly bombed out city has never been more essential. Donate to their specific Syrian relief effort here. 

Refugees Welcome

This organization puts refugees in apartment shares, like a free AirBnB. If you take someone in, they'll help support your rent. It's a wonderful way to keep people out of camps. It's not accessible in the United States, but you can donate to assist. 

The White Helmets

The volunteer group the White Helmets have been nominated for a Nobel Peace Prize, and do they ever deserve it. They're based in Syria and come to aid those in a state of emergency; they have saved an estimated 73, 530 lives. They need money for the health care of their wounded volunteers, families of volunteers who have been killed, and essential equipment that's been destroyed in constant bombings. 

Oxfam International

Oxfam is aiding refugee camps, helping to supply clean drinking water and sanitation. Conditions in the camps are dire, and as more and more people are displaced, their efforts are increasingly needed. You can donate here. 

The International Rescue Committee

The IRC is working to help Syrians who have fled from Aleppo into the town of Al Dana. They're supplying people with food and emergency items like bedding, soap, and towels. 

Islamic Relief USA

Islamic Relief provides aid to all who need it, regardless of race, gender or religion. They're working on emergency responses in Syria, as well as assistance for displaced refugees. "We are very concerned that what happened in Aleppo may happen in other areas such as Idlib, where we are also working," CEO Anwar Khan told the Huffington Post. "We are asking the international community to do more to provide safe spaces for civilians inside Syria."

Syrian American Medical Society

As you might gather, the Syrian American Medical Society helps the sick and injured in Syria and nearby countries. Right now, they're obviously pretty busy. You can click to donate here. SAMS President Ahmad Tarakji pretty much summed up the entire situation in an interview with the World Post. "The humanitarian organizations that work in Syria need to be protected and supported," he said. "This isn't a political conflict, it's a humanitarian crisis ― the response should be built upon that principle." Let's listen.