World AIDS Day: What You Can Do To Support Those Affected Worldwide
While strides have been made there is still no cure for the disease.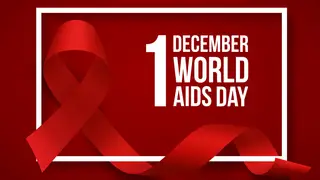 Today (Dec. 1) is World AIDS Day, a reminder that though we have made many strides with the condition, there is still no cure. However, we must continue the work of trying to eliminate HIV transmissions across the world.
Acquired immunodeficiency syndrome (AIDS) occurs when you have contracted the human immunodeficiency virus (HIV)—which can severely impact your immune system. This negative effect may cause your body to be more susceptible to infections and diseases. Fortunately, there are now medications that reduce the risk of transmission and, in some instances, render the virus undetectable in the bloodstream.
Still, many barriers impede some people from getting tested and then getting proper treatment.
Every year, the U.S. government honors the day and examines its response to the millions of people who have lost their lives to the disease. This year's HIV.gov theme is "World AIDS Day 35: Remember and Commit," commemorating 35 years dedicated to this day.  
The site offers an event planning guide to help those who want to do more today. Allies are provided tools, tips, questions to ask, and steps to take to host an event to encourage more HIV awareness. It takes you through planning and considerations for a successful event as well as advice on whether it is best to host or attend an event. Additionally, you are offered stats, infographics, and social media assets to use today to show your support.
For a list of events in person or virtual, you can head over to POZ, a digital and print brand for people living with and affected by HIV/AIDS. It offers daily stories, videos, investigative articles, and profiles.