Episcopal Church Elects Michael Curry to Presiding Bishop
Installment announced for first African-American to lead the Anglican house of prayer.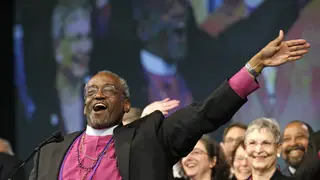 Commitment to diversity has not wavered at the Episcopal Church, where, even among nationwide racial tension following the Charleston Massacre and membership decline in liberal Protestant sects, Bishop Michael Curry was elected the first African-American presiding bishop.
"We've got a society where there are challenges before us. We know that. And there are crises all around us. And the church has challenges before us," Curry said when he was announced. However, he remains fatihful. "We are part of the Jesus movement, and nothing can stop the movement of God's love in this world."
The vote was a landslide at the Episcopal General Convention this past Saturday (June 27). Curry was cofirmed after earning 121 of 174 votes from fellow bishops and an 800 to 12 vote in the House of Deputies, the Huffington Post reports.
Based in New York, TEC has counted Founding Fathers, U.S. Presidents and presently nearly 2 million members in it flock. It is the U.S. body of the Anglican Communion, which includes a membership of some 80 million worldwide.
Curry, 62, became bishop of North Carolina in 2000, where he's lead a diocese of 48,000. He will succeed Presiding Bishop Katharine Jefferts Schori, the first woman to lead an Anglican national church, and perhaps most known for making major strides when she held a service of repentance to apologize for the church's history of complicity with slavery, segregation and racism.
"The truth is we are brothers and sisters of each other," said Curry, who too has fought for diversity, including support for gay rights, among his platform of evangilism, public service and social justice. "The hard work is to figure out how we live as a beloved community, as the human family of God."
He will be installed Nov. 1 at the Washington National Cathedral.
Click here for a chance to win a girls' trip to Miami!
BET National News - Keep up to date with breaking news stories from around the nation, including headlines from the hip hop and entertainment world.
(Photo: AP Photo/Rick Bowmer)