Steve Harvey On His Style Evolution: 'I Don't Want To Look Old. I Don't Want To Dress Old'
The 65-year-old talk show host invited The Silver Fox Squad onto 'STEVE on Watch' to chat about the power of style.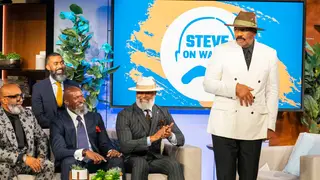 Steve Harvey has solidified his position as a "style icon" and now he's using his viral status to shine the spotlight with other mature men who are teaching high-fashion swag to the next generation.
Recently, the 64-year-old talk show host invited a group of suave men to appear on an episode of his show, STEVE on Watch. The fellas, known as The Silver Fox Squad, showed up for the televised moment dressed to impress. The group, who are famous on social media for their style, also brought with them a message about the power of fashion.
"After 50, they pretty much, you know, put us to the side. I wanted a couple of brothers with me to show that we don't have to sit down just because we're 50," shared Irvin Randle (59), the founder of the Silver Fox Squad.
Jean Titus (53) of the Silver Fox Squad chimed in, "You know a lot of people, male and female, once they start to hit 35, you know, the rumor out there is that things are supposed to decline and people just accept it. But if you look at us, right, we're living examples that it doesn't have to be the case."
Clearly, in agreement, Harvey responded, "I believe just in what you're saying. I'm not just going to sit over here and let old age come take me away...I don't want to walk old. I don't want to look old. I don't want to dress old."
For those who may not know, Steve has recently landed on many people's best-dressed lists thanks to his style evolution by celebrity stylist Elly Karamoh. Even his daughter Lori Harvey spoke about her father's new fashion choices.
"He has completely transformed him, he's like a new style icon," Lori happily explained to E! News. "He's feeling himself. You can't tell him anything right now."
The comedian and best-selling author have even landed an honorary position as a Silver Fox Squad member, a group of attractive middle-aged men, with mostly grey and white hair, who is well-dressed and garner lots of attention from the ladies.
"We want to say to you Mr. Steve, we admire you, we see what you're doing and you so much inspire us. We have a gift for you," Randle revealed before presenting the talk show host with a dapper brown fedora and a custom shirt. "As the leader of this group of the Silver Fox Squad, we would like to personally invite you to be a member and your name is on the back, sir...we would like for you to be a Silver Fox."
"I would be honored, man," Harvey accepted with swag. "I want to thank you to the fellas for representing and letting everybody know, age ain't nothing but a number! Stay fly till you die!"