Watch: LeBron James, Carmelo Anthony, Dwyane Wade and Chris Paul Call for Action From Athletes
Here's what each NBA superstar had to say at the ESPYS.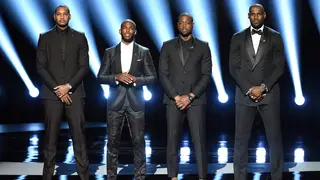 His friend and fellow NBA superstar LeBron James immediately bought in.
To set off the 2016 ESPYS, though, Melo, King James and their band of brothers in Dwyane Wade and Chris Paul took the stage to further make an impassioned plea to their fellow athletes to do more to help stop the violence, stressing that Black Lives Matter.
One by one each NBA superstar evoked a different point, beginning with Melo.
The recent rash of disturbing shootings, including the Dallas police murders, hit home for CP3, who revealed that his uncle is a cop. That being said, Paul rattled off names of too many Black victims who have been killed by police, urging that something has to change.
D. Wade was adamant in saying the racial profiling has to stop.
And King James said since the same ESPYS was a platform to honor the late Muhammad Ali, athletes should take a page from The Greatest's book and assemble to change.
Much respect to Melo, CP3, D. Wade and King James for stepping up, speaking out and trying to spark change.
BET Sports News — Get the latest news and information about African-Americans in sports, including weekly recaps, celebrity news and photos of your favorite Black athletes.