Ben Carson Says Rap Song Ad was Not Authorized by Him
"Please don't Google it," he jokingly exclaimed.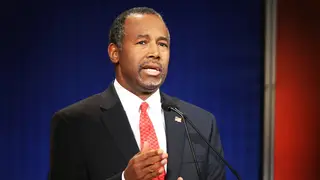 GOP presidential candidate Dr. Ben Carson ran a radio advertisement last year aimed at garnering support from the black community. We're learning now however, that Carson actually didn't fully approve the ad's release.
Recently sitting down with BET #AllVotesMatter panel's Dee-1 and Vote America Now President Chris Prudhome, Dr. Carson crucified the ad and says it wasn't representative of his beliefs about the African American community.
"I was horrified," he explained when asked about the ad. "It was done by people who have no concept of the black community and what they were doing and I said, 'Please don't do something like that again.' They snuck it out without me knowing anything about it." He prefaced his response by also asking his own team why they decided to drop the ad. "I would say just the opposite, please don't Google it (laughs). I did not approve that and when it came out I said, 'Why did you guys put [that out]. What are you thinking?'"
Also during the sit down, Dr. Ben Carson expressed his views on healthcare, education, being black in America and assessed how he believes everyone should own personal responsibility.
Watch the full #AllVotesMatter edition with Dr. Ben Carson below.
BET.com is your No. 1 source for Black celebrity news, photos, exclusive videos and all the latest in the world of hip hop and R&B music.