Kim Osorio Returns to The Source Magazine
Kim Osorio reclaims her old post as editor-in-chief of the hip hop mag.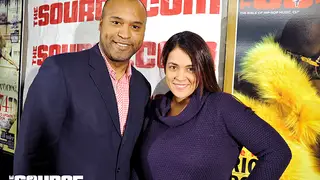 In an effort to regain a dominant position in hip hop journalism Londell McMillan, owner and publisher of the Northstar Group (The Source, and Jones magazines) announced the return of Kim Osorio as editor-in-chief of The Source magazine.
At a press conference on Tuesday (January 10) in New York's chic Muse Hotel in Times Square, McMillan introduced Osorio to the media in her new role as E.I.C. and vice president of content and editorial for the Northstar Group.
Osorio who served as the mag's E.I.C. from 2003 to 2005 has big plans for the mag as it enters its 24th year of delivering commentary on all things hip hop. During an exclusive interview with BET.com the respected hip hop scribe says her first line of business is to propel the magazine's online presence in media.
"One of my first things that I want to focus on is just the digital space," Osorio explains. "I feel like there's a lot of great content on TheSource.com but the outreach isn't there. I want to connect with different content partners so we're sharing information because that's really the win in this space."
During Osorio's first stint as E.I.C. the mag covered the biggest names in the industry from Jay-Z to 50 Cent, while touching on political and social issues that impacted hip hop fans. She left in 2005 as the hip hop publication ran into turmoil following a very public beef between former co-owner Raymond "Benzino" Scott and rap star Eminem. Osorio says she plans on bringing key aspects of journalism like forecasting and investigative reporting back to the once-hailed "Bible of hip hop."
"I think forecasting is very important to what we do, because we have to know the trends before they become trends," she explains. "That's something I want to stay on top of, but also adding that element of investigative journalism and being able to go a lot deeper into the stories that we're doing."
Back at the helm, Osorio, who recently penned the magazine's most recent cover story on Rick Ross, admits to a few missteps by the mag since her departure but is devoted to returning the publication back to its former state of glory.
"We lost that depth that The Source once had so I want to restore that within the magazine."
Ecstatic about the new addition and direction, McMillan says that Osorio's return to the mag is a great power move for hip hop culture.
"In addition to hip hop, she has empowered women and writers in journalism for years," says McMillan, who purchased The Source in 2009. "She is an excellent journalist online and off.
McMillan also hinted that fans should expect a relaunch of entities like The Source Awards and Source Radio to coincide with the mag's 25th anniversary in 2013.
BET.com is your #1 source for Black celebrity news, photos, exclusive videos and all the latest in the world of hip hop and R&B music.
(Photo: Courtesy thesource.com)