Why Laverne Cox Uses Her Fame to Advocate for LGBT Youth
The Orange Is the New Black star opens up about being bullied as a child.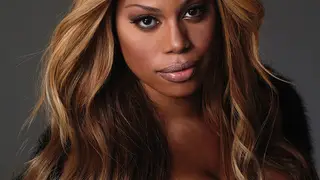 (Photo: Courtesy of VIBE Vixen)

Even before playing the tough-as-nails prison inmate Sophia Burset on Orange Is the New Black, Laverne Cox learned to hold her own in the face of adversity.
Growing up in Alabama, she and her twin brother often faced vicious attacks from her peers. "I was called a sissy, a f-g and kids basically wanted to beat me up every day," she tells VIBE Vixen.
"There was a time in middle school when some kids hit my brother and I with drumsticks and a parent from the school saw it. We knew we could never tell our mother because she would blame us and question why we weren't fighting back, but the principal called her. It was really awful and painful."
Now the star of Netflix's smash hit series, Cox hopes to use her influence as a transgender star in Hollywood to help other young people struggling with bullying. "Right now I'm doing a college tour, speaking engagements, and the anti-bullying Spirits Day, which raises awareness against ending bullying against the LGBT community and different groups," she says.
In her own experience, she says her choice to have gender reassignment surgery wasn't hard for her close friends and family to accept. "Before I started the medications and surgical procedures, I didn't have people in my life that would have a problem."

And while physically she went through a transformation, Cox says life in some respects has not changed. "For the people that know me, this wasn't a weird thing. It wasn't like this was out of the blue. They always knew who I was. I'm really the same person."
BET.com always gives you the latest fashion and beauty trends, tips and news. We are committed to bringing you the best of Black lifestyle and celebrity culture.
(Photo: Fernando Leon/Getty Images)