Thousands Of Marijuana Convictions To Be Pardoned By Biden Administration Under New Policy
Cannabis will not be decriminalized, but the White House will examine if weed should be considered as dangerous as LSD or heroin.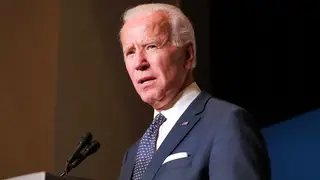 President Joe Biden announced on Thursday that he would pardon all prior federal marijuana offenses, which will affect thousands of people who have been convicted for possession of the plant. He also said that his administration would review if it should remain in the same category as LSD and other hard drugs.
"Sending people to jail for possessing marijuana has upended too many lives — for conduct that is legal in many states. That's before you address the clear racial disparities around prosecution and conviction.," Biden said on Twitter. "Today, we begin to right these wrongs."
In a subsequent video, he added: "While white and Black and brown people use marijuana at similar rates, Black and brown people are arrested, prosecuted and convicted at disproportionately higher rates."
The pardons will clear those convicted on federal charges of simple possession. The New York Times reports that approximately 6,500 people were convicted of simple possession between 1992 and 2021. The pardons also include convictions under D.C. drug laws.
While Biden will not decriminalize cannabis, he is calling for the departments of Justice and Health and Human Services to review how marijuana should be scheduled under federal law. Currently, the U.S. Drug Enforcement Agency lists marijuana as a Schedule I drug, the classification for the most dangerous substances, under the Controlled Substances Act along with heroin and LSD . But fentanyl and methamphetamine are considered Schedule II substances.
NAACP President Derrick Johnson praised the pardons on Twitter, writing, "Drug arrests and enforcement have caused racial disparities throughout the criminal justice system, and many drug laws were first created to target racial and ethnic minorities. Today marks another significant step in addressing systemic racism within the criminal justice system."