Chicago Honor Student Who Participated in Inauguration Shot Dead
Hadiya Pendleton, 15, who was a member of the King College Preparatory School marching band, which participated in the Obama inauguration festivities, was shot dead in the South Side of Chicago on Tuesday.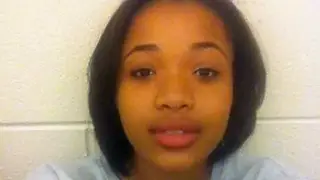 Pendleton was shot just blocks from her school after being dismissed early following exams. Another student, who is in serious condition, was shot in the leg and taken to Corner's Children's Hospital.
Police say a group of teens were waiting for rain to let up under a canopy at a park when a man opened fire, the Chicago Sun-Times reports.
"As usual, the bad guy aims, but he never hits the other bad guy . . . He hits the one that hurts the most to lose," said Chicago Police Officer Damon Stewart, 36, Hadiya's godfather. "I changed her diapers, I played with her growing up. My heart is broken."
The shooting happened about three blocks from King College Prep, where Hadiya attended high school, played on the volleyball team and was a majorette with the band. The park where she was killed is a little less than a mile from President Barack Obama's Kenwood home.
"She went to the inauguration. She was working on some sort of exchange program, where she was going to go to school in Paris," Stewart said. "She was a great student."
On Wednesday afternoon, White House press secretary Jay Carney addressed Pendleton's death at the daily press briefing.
"It's a terrible tragedy any time a young person is struck down with so much of their life ahead of them, and we see it far too often," Carney said. "The president and first lady's thoughts and prayers are with the family of Hadiya Pendleton. All of our thoughts and prayers are with her family."
Read the full story here.
BET National News - Keep up to date with breaking news stories from around the nation, including headlines from the hip hop and entertainment world. Click here to subscribe to our newsletter.
(Photo: Courtesy of The Pendleton Family)