Dwight Howard Denies Allegation Of Sexual Harassment Outlined In Lawsuit
The eight-time NBA All-Star called the accusation a 'fabribated' story from someone he blocked on social media.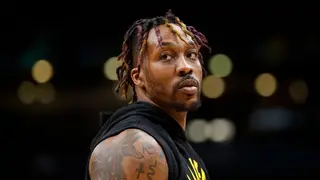 Former NBA superstar Dwight Howard is vehemently denying charges of sexual harassment filed against him earlier this year, which has led to a legal conundrum for him in which he is left attempting to clear his name.
According to the Associated Press, Stephen Harper filed the lawsuit against Howard in July, alleging assault and battery, false imprisonment, and intentional infliction of emotional distress.
In the suit, Harper claims that he met Howard through Instagram and they began a sexually explicit text exchange before deciding to meet in person at Howard's home on July 19, 2021.
On his way to the house, Howard asked Harper if another man who he allegedly "has threesomes with sometimes," could join them, The Athletic reported. Harper said he told Howard that he did not want to have sex with an additional person.
When he arrived at the house, Harper claimed that a man named "Kitty" was dressed in women's clothing in the bedroom and Howard "assured (Harper) he would not have to participate in a threesome and convinced (him) to stay."
The suit goes on to say that Howard and the other man began to engage in sexual acts and although Harper said he did give consent and asked him to "stop," Howard became verbally aggressive toward Harper, forcing him to participate Harper said that Howard and "Kitty" were "much larger" than Harper and he believed he would "suffer imminent bodily harm" if he continued to resist Howard.
"Mr. Harper was trapped in Defendant's bedroom and believed that he would suffer imminent bodily harm if he resisted Defendant's sexual advances," the lawsuit stated. Afterward, "Mr. Harper felt extremely violated and humiliated, and was in complete shock."
Along with his side of the story, Harper's suit includes an Uber receipt of his trip to Howard's home on the night of the encounter and screenshots of alleged Instagram exchanges between Harper and Howard from 2021.
With his attorney responding to the suit on Wednesday (October 25), Howard described the encounter as consensual and is requesting that the judge dismiss the case.
"What was a private consensual encounter was made public for profit and Mr. Howard looks forward to bringing the truth to light in a court of law," Justin Bailey, of Howard's attorneys, told ESPN. "The allegations against Mr. Howard are contested. Mr. Howard intends to present the truth. The truth is Mr. Howard blocked (the alleged victim) on social media and then was confronted with two options — pay to protect his reputation or have a fabricated story made public. Despite being an easy target due to the subject matter and his status as a celebrity, Mr. Howard chose to trust in the justice system and will rely on all future court filings to speak for themselves."
"This report was made following Mr. Harper being blocked on social media and after the first demand for payment was rejected," Bailey continued.
Over the course of his 18-year NBA career, Howard was one of the NBA's premiere players and was a dominant defensive force on teams including the Orlando Magic and the Houston Rockets. He was an eight-time All-Star and was named Defensive Player of the Year on three separate occasions.
He ended his stint with the LA Lakers in 2022 and began playing overseas for the Taoyuan Leopards in Taiwan.