When Hip-Hop Is More Progressive Than the Country That Birthed It
Rap music always has a way of pushing us forward.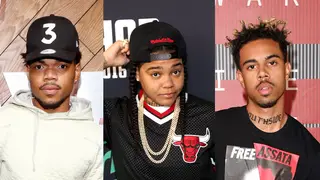 America is like a turntable — belt drive not direct — where revolutions per minute can be thwarted by the smallest glitch, thereby snapping back into rapid spins in reverse. It's an epidemic that we've suffered for as old as this country is. Last night (Nov. 8), we were reminded of the potential consequences of perhaps the most detrimental glitch in recent history.
Chances are, if you're reading this on BET.com, you weren't asleep behind the wheel. You hopefully did your part to champion for the rights of all, with the onus placed upon minorities — from Black people to Muslims, immigrants of all races, the LGBT community and the community that oftentimes shrugs its minority status: women. You may have not been thrilled by the message or actions of Hillary Clinton, but you didn't see any light in the polarizing Donald Trump, who has now been elected as the 45th president of the United States of America. Let that sink in. A reality TV star is now running our country, following two terms with our first Black president, Barack Obama. It's sobering news and indicative of the Draconian times that have poured into this country over the last few years. 
But in the midst of this darkness has come an unbelievable light from the least likely of places: hip-hop music. And you can argue that hip-hop has always emerged from the disenfranchised who penned songs of rebellion. However, this election had the potential to elect our first woman president in history, and we failed. Just as hip-hop has placed women at the forefront of the culture. Ironic, isn't it? And while the last few years of having a Black president have brought out some of the worst racists, organizations like #BlackLivesMatter have mobilized and rappers have stepped forward to speak up in song. What a time to be a hip-hop head.
This isn't the first time that hip-hop has been on the right side of history when the rest of the country was not. In fact, hip-hop's strongest anti-establishment sentiments have emerged during the most political turmoil in America. Grandmaster Flash's "The Message" arrived in 1982, just as Ronald Reagan was settling into his presidency and ready to inflict "Reaganomics" onto the country, compounded by the crack and AIDS epidemics that would linger for decades and decades.
N.W.A's Straight Outta Compton arrived in 1988, at the tail end of Reagan's two-term reign, as inner cities remained marginalized and police brutality was getting its unfortunate wings. When President George H.W. Bush followed in 1989, the more things changed, the more they stayed the same. And rap responded, with "Self-Destruction" being one of the most potent of responses that year. Public Enemy's Fear of a Black Planet came the next year, fueled by anthems like "Fight the Power" and the tongue in cheek ode to our state of emergency "911 Is a Joke."
Ice Cube's Amerikkka's Most Wanted came that same year, highlighting the overt (and often underlying racism) affecting every part of the country — from the streets to the White House. Tupac Shakur's 2Pacalypse Now in 1991 dusted off the podium on which Pac would stand to decry the ills of society until his demise in 1996. During the Clinton Era (the one we actually experienced), actions according to the 13th Amendment proved more harm than good, as albums like Mos Def's Black on Both Sides were unapologetically Black during the most challenging of times. By the early aughts, President Bill Clinton's mistakes in handling the prison system began to truly show as George W. Bush took hold of the Commander-in-Chief position. Dead Prez's 2000 debut Let's Get Free and Common's Like Water for Chocolate emphasized the racial divide and how it manifested itself in disadvantaged communities, urging us to action. By 9/11, we found words from Immortal Technique to be enlightening, as Revolutionary Vols. 1 & 2 both called out the conspiracy theories before anyone else had the information or gall to do so. In 2006, The Roots would deliver their most politically charged work, Game Theory, but two years later President Barack Obama would take office and America got comfortable.
Songs of celebration like Young Jeezy's "My President Is Black" hit the ether as we temporarily enjoyed a seemingly progressive society. But Obama could barely set foot into his second term before racism once again reared its ugly head. Cellphones, social media and courageous words of mouth began to point out the inequalities that were buried beneath the lowered unemployment rates and moves toward climate change. But even when the police and other so-called trained professionals couldn't mobilize, hip-hop was the first responder.
At the end of 2014, D'Angelo would return from over a decade hiatus with Black Messiah and in 2015 Kendrick Lamar would lead the new generation of rap with To Pimp a Butterfly, with J. Cole jumping in as one of our most prolific political figures on the frontline. As President Obama was nearing the end of his presidency, reality sunk in, punctuated with escalating incidents showing that things were far from moving forward. Then 2016 arrived as we began to realize the possibility of back-to-back histories in the making with our first Black president preceding our (then-hopeful) first woman president. Artists like Chance The Rapper gave us Coloring Book, full of hymns of self-care and betterment, while Vic Mensa would deliver There's a Lot Going On, furthering the sentiment that there's much more work to be done. Common's Black America Again reminded us of the Chicago visionary's power, just like "Glory" with John Legend the year prior.
And as we were just settling into the idea of our first woman president, Young M.A grabbed the throne of new rap royalty. Her ability to penetrate the boys club has been one of the most impressive moves on the rap forefront thus far in 2016. The ball was in our court, once again blocked by the old guard.
So here we are again. A paragon of racism, sexism and privilege is about to step in and lead our country in 2017. Many of us are terrified, feverishly wondering how to either mobilize or vacate. But if you believe in the power of music at all, then you'll find comfort in its history. Some of the greatest musical works come from times of crisis. Hell, look at Marvin Gaye's What's Going On? , created at the heart of the Vietnam War. America can move beyond this as it has in the past, even if the soundtrack is more progressive than the society surrounding it.