Watch: There's No Way You Won't Vote After Seeing This Jesse Williams PSA
#WokeBae has a few words for you.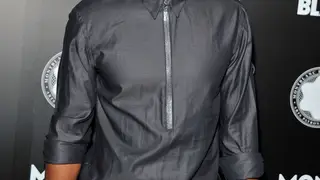 Everybody knows by now that Jesse Williams doesn't just talk the talk — he also walks the walk. 
Putting this to practice, the Grey's Anatomy star recently used his celebrity for a good cause: educating undecided and unregistered voters about the importance of voting.
"This is not about the White House," he said in a new election PSA for the super PAC. "This is about your house. If you're not registered to vote, you can't sit on a jury. You can't choose your mayor. You can't choose your city council. You can't even choose your district attorney. You can't decide which measures will help your family and community, and which will put them at risk."
This isn't the first time the actor has shared his passion for voting issues. Earlier this month, he collaborated with the Save the Day super PAC, appearing in a voting campaign with other stars.
Ending the PSA, he said, "You say, 'Vote,' because there are people who still don't want you to."
Take a look at his message below.
Also, see Jesse's moving BET Awards speech in its entirety, above.