Guess Who Is 'Livid' After Michael Strahan Said He Isn't Friends With Kelly Ripa
Drama continues.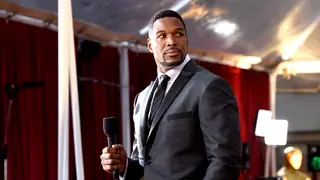 Michael Strahan recently spoke on infamously having bad blood with the folks at Live! With Kelly and, according to a recent report, the ABC executives aren't happy with him adding fuel to the fire that is already a rocky situation.
After expressing his disappointment in being "painted as the bad guy," the current Good Morning America co-host made a bold statement about his relationship with Kelly Ripa.
"At one point I think we were friends," he said in his People cover story. "I don't know what happened at the end. I learned a lot from her, though."
According to the Daily Mail, a source revealed the executives at the network "were livid" after hearing Michael's comments. "Things had finally calmed down and then he goes and does this interview, throwing [ABC president] Ben Sherwood under the bus."
Responding last week to the way Michael's exit from the show was handled, Sherwood apologized via The Hollywood Reporter, saying, "We made some mistakes. We fixed them quickly and we moved on."
A spokesperson for ABC, however, denied claims that anyone was "livid," saying the former professional athlete's story "got its own segment on Good Morning America" on Wednesday. During the segment, however, his comments about Kelly or Live! were not included.
See how Kelly and Michael parted ways on his final episode with BET Breaks, above.