Terence Crawford: Talks Cementing His Legacy As An All-Time Great With Upcoming Superfight Against Erroll Spence Jr.
In the highly-anticipated fight, he's putting up his WBO title against his opponent's three belts.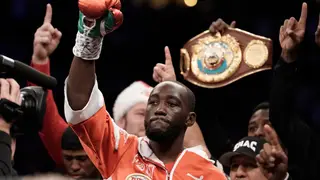 In the world of boxing, not many have embodied what it means to grind your way to success quite like Terence "Bud" Crawford. Standing 5 '8, weighing 147 lbs, with a 74-inch reach, and boasting a record of 39 wins with 30 knockouts, he has solidified his status as one the best boxers in the sport with each victory.
Among the accolades that Crawford has garnered thus far is being named Fighter of the Year by the Boxing Writers Association of America in 2014, and by ESPN in 2014 and 2017. Since 2018, he's been the WBO welterweight champion
In what is regarded as the culmination of his remarkable career, Crawford is set to take on the only fighter that many would say is his equal, Errol Spence Jr. In one of the most highly-anticipated fights in recent boxing history. In the just 13th unification bout in the history of the welterweight division, Crawford is putting up his WBO welterweight title against Spence's WBA, IBF, and WBC titles.
BET.com spoke with Crawford about how his upbringing destined him to be a boxer, his preparation for the fight, and why this fight will prove that he's the best pound-for-pound boxer in the world.
BET.com: How did growing up in the city of Omaha shape you as a fighter?
Crawford: Coming up in Omaha was rough. I used to fight all the time. We used to fight in the alleys, we used to fight in the front yard. You better not get beat up at home or when your momma is outside. So my upbringing was all about fighting. I told myself when I was 13 that I would take boxing seriously and that's where it all began.
BET.com: Boxing fans have been wanting you to step in the ring with Errol Spence Jr., for quite some time. In your preparation for the fight, did you make any major strategic changes?
Crawford: No big changes. I just made some tweaks here and there. Spence is great at what he does. But for the most part, if it ain't broke, don't fix it.
BET.com: Your trainer and business partner Brian "BoMac" McIntyre along with the rest of your team have been essential to your rise in the boxing ranks. Do you feel like your team doesn't get the credit they deserve for all the success you've earned?
Crawford: My camp doesn't always get the shine they deserve. BoMac is a top trainer in the game. I got a tremendous team. I got a very underrated team. They know me inside and out. They help me mentally, physically, spiritually, and emotionally. They know when something is wrong. When you've been with somebody for as long as they've been with me, you get to know a person's habits and what makes a person comfortable. My team is everything to me. I started with them and I'm going to finish with them.
BET.com: What kind of impact do you think the fight will have on the sport of boxing?
Crawford: I think it is going to help boxing tremendously. I think the fight is going to put more eyes and attention on boxing. There have been hella fights this year and over the past few years. There's been so many great fights and many more fights after me and Spence this year. I think boxing is in a great place and bringing together two of the best fighters for an undisputed fight will definitely put a positive light on the sport.
BET:com: Lastly, what would a victory do you for your legacy?
Crawford: I think this fight will change my legacy and put me in the conversation as an all-time great fighter. Like I said before, there was the Sugar Ray Leonard era, the Roy Jones Jr., era, and the Floyd Mayweather era. After this fight, everyone will know that this is the Terrence Crawford era.
WBC, WBA, and IBF Welterweight World Champion Errol "The Truth'' Spence Jr. will take on WBO 147 Welterweight World Champion Terence "Bud'' Crawford for the Undisputed Welterweight World Championship on Saturday, July 29  at T-Mobile Arena in Las Vegas, Nevada, or on SHOWTIME PPV.