This Day in Black History: April 26, 1886
Blues singer Ma Rainey was born in Columbus, Georgia.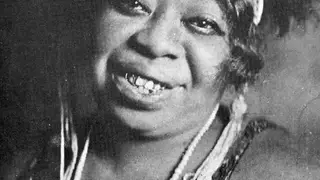 Gertrude Pridgett, or Ma Rainey as she came to be known, was born on April 26, 1886, in Columbus, Georgia. Her parents, Thomas and Ella, were minstrel performers who likely never dreamed that their little girl would one day be considered the "Mother of the Blues."
But that's not how she came to be called "Ma." While working at the Springer Opera House in the early 1900s, she met her future husband, William "Pa" Rainey. The couple married on Feb. 2, 1904, and performed together in Southern tent shows and cabarets. It was during those travels that she was introduced to country blues, which she began to incorporate into her own music.
In 1916, the Raineys separated and Ma Rainey went on tour with her own band, Madam Gertrude Ma Rainey and Her Georgia Smart Sets. In 1923, she made her first recording with Paramount and subsequent sides, Rainey went on a promotional tour for the label. She also was collaborating with jazz greats like Louis Armstrong and pianist/arranger Thomas A. Dorsey, who is a founder of gospel music.
"When she started singing, the gold in her teeth would sparkle. She was in the spotlight," Dorsey said. "She possessed listeners; they swayed, they rocked, they moaned and groaned, as they felt the blues with her."
Rainey, who also was a shrewd businesswoman, retired from the music industry in 1935 and returned home to Columbus where she owned and managed the Lyric Theater and the Airdome. She died on Dec. 22, 1939.
In 1990, Rainey was inducted into the Blue Foundation's Hall of Fame and the Rock and Roll Hall of Fame.
 BET National News - Keep up to date with breaking news stories from around the nation, including headlines from the hip hop and entertainment world. Click here to subscribe to our newsletter.