Stalker Alert: 'BBW' Star Jennifer Williams Shows Receipts That Ex Has Been Following Her Every Move
The reality star flips the script.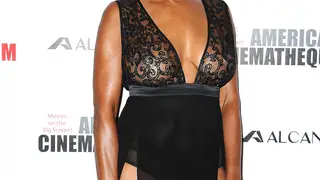 Basketball Wives LA star Jennifer Williams recently was made to look like the "crazy ex-girlfriend" in her split from Welcomes to Sweetie Pie's star Tim Norman. However, the reality starlet is now posting receipts to prove that he, in fact, was the deranged one in their breakup.

See what recently went down at the finale of another popular reality series with BET Breaks, above.

The drama first began when Norman claimed that Williams had harassed him on several occasions, one of which included her allegedly following him to his Los Angeles home with the intent of slashing his tires and running him over.
However, a rep for Williams reached out to The Shade Room in an attempt to clear her name and clarify that Norman was, in fact, the one who needed to be kept afar. The documents that were sent to the site showed that she filed a police report against Norman earlier this week after repeated stalking offenses in LA, one including him allegedly showing up to Williams' home unannounced.
The Basketball Wives star's name has also been cleared by a friend — who has chosen to remain anonymous — who has sent screen shots of text exchanges he/she has had with Norman. In the messages, he admitted to cheating on the reality starlet as well as other questionable acts such as stalking her in various instances.
Williams' rep also confirmed to the site that Norman's allegations against her where he claimed she followed him home are completely fabricated, since he actually lives in Texas.