WATCH: Janet Jackson Shares Teaser Trailer For New Documentary
The two-part documentary is titled 'JANET.'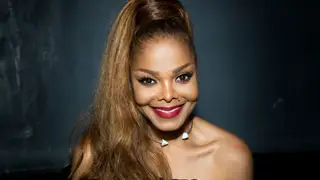 Janet Jackson is sharing details of her life in an upcoming documentary. 
The 55-year-old entertainer revealed the first teaser trailer on Monday (Sept. 6), titled JANET. Airing on Lifetime and A&E, the two-part documentary, will air over two nights in Jan. 2022, just in time for the 40th anniversary of her debut album Janet Jackson.  
"Hey u guys. Excited to share the first teaser of my new documentary with u," she captioned an Instagram post with the trailer.
Interviews with Missy Elliott, Paula Abdul, Mariah Carey and professional dancer Whyley Yoshimura are highlighted in the clip.
"This is what a superstar looks like," Elliott said.
"She is an empowered woman," Carey adds, while Abdul calls Janet a "force to be reckoned with." 
"She comes from a whole family of legends," Yoshimura notes.
Several archival clips from the superstar's life and successful career are shown throughout the trailer, including ones that feature her late brother Michael Jackson and her Poetic Justice costar, Tupac Shakur. 
"This is my story, told by me. Not through someone else's eyes," Jackson said. 
According to People, the documentary was filmed around the time of the death of her father, Joe Jackson, in June 2018. The doc will also cover her 2004 Super Bowl halftime performance with Justin Timberlake, the death of her brother Michael Jackson, becoming a mom later in life, and taking a break from music and her return. 
"This is the truth," Janet says in the teaser. "Take it or leave it. Love it or hate it. This is me."