Soul Train Awards 2023: Unveiling Missy Elliott's Hidden Harmonies: 4 Times She Delivered Riffs, Not Raps
Explore the unexpected vocal brilliance of this year's nominee.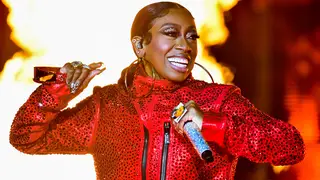 Missy Elliott is synonymous with innovation and boundless creativity in the music industry. Beyond her groundbreaking production and songwriting skills, The Virginia native's voice effortlessly weaves through songs like J Cole's "Nobody's Perfect." From soulful ballads to high-energy anthems, Missy's vocal versatility is a testament to her artistry.
In honor of the upcoming "Soul Train Awards" 2023, we're revisiting some of our favorite records from this year's nominees. The industry veteran earned a nom for her contributions to Flo's single "Fly Girl" at this year's ceremony airing on Sunday, November 26 at 8 p.m. ET. So, turn up the volume and check out five times Missy delivered runs and not raps.
J. Cole – "Nobody's Perfect"

Missy delivers a soulful performance on J. Cole's 2011 single "Nobody's Perfect." The song is featured on the North Carolina native's debut studio album, "Cole World: The Sideline Story."

"Take Away"

With raw and heartfelt delivery, she pours her soul into every note, creating a hauntingly beautiful atmosphere.

Sista —"4 All the Sistas Around da World"

Missy first showed the world her vocal talents in 1994 as one of the members of the R&B group Sista.

Aaliyah —"Hot Like Fire"

Missy added an electrifying and edgy dimension to the late Aaliyah's hit track "Hot Like Fire."