Here's the Alleged Reason Why Kylie Dumped Tyga
This will prompt some eye rolls.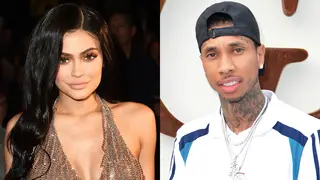 ICYMI, Kylie Jenner and Tyga are on the outs (again).
Given their roller-coaster-like relationship history, this breakup came as a surprise to no one. The reason why, however, is definitely raising some eyebrows.
Apparently, 19-year-old Kylie dumped Tyga because he refuses to put a ring on it.
"Kylie has been begging Tyga to propose to her for years now and she pulled the plug on this relationship because she was tired of waiting," a source tells RadarOnline. "She has been trying to force him into marrying her and seems to think that Tyga cannot live without her. But she's wrong because he clearly can and does!"
The source continues, "It seems like she annoys him more than anything lately because she is not the same girl that he fell for. Lately it's always just seemed like the 'Kylie Show' guest starring Tyga, and it looks like he couldn't take that anymore!"
Hmm. If any of this is true, for once it seems like Tyga made the mature decision. 
See more KarJenner drama with BET Breaks, above.