Here's How Chris Brown Reportedly Feels About Quavo Dating Karrueche
The singer may not be over her just yet.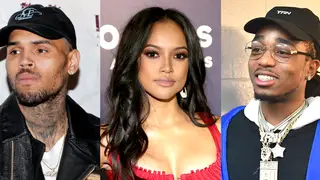 According to Chris Brown, Quavo doesn't abide by the bro code.
TMZ reports that the singer feels betrayed by the Migos member as he is reportedly dating his ex, Karrueche Tran.
The site reports that, according to their sources, Breezy had both a personal and professional relationship with Quavo, having invited him to his home and even collaborating with him on songs in the past before Migos made it big.
The biggest gripe for Chris though is, allegedly, the fact that he helped promote Migos' most recent album, Culture, around the same time Quavo was seeing Karrueche behind his back.
According to the reports, the "New Flame" singer even feels Quavo had a hand in Karrueche's recent decision to get a restraining order against him, as the secret couple were dating at the time of the drama. He reportedly believes they both planned that so they would be able to date without any interruptions.
TMZ reports that prior to learning of Quavo and Karrueche's relationship, Chris did an interview with Billboard where he called Migos his "real friends and brothers."
See who's not a big fan of Breezy in the BET Breaks video, above.