This Weekend: Here's What To Watch, Listen To & Experience
Spend time off with King Push, Snoop Dogg, and get your tickets for 'N.Y. State of Mind,' and Disney's 'Electric Parade.'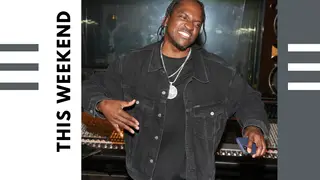 When it comes to finding new stuff to enjoy, it's easy for us to stick to what we know or want that old thing back. But for a rare few, being a true content connoisseur is about being on top of what's hot, what's trending, and what's next. Luckily, this new guide is everything to fulfill your music, literary, film, TV, and live experiences needs.
Each week, yours truly, Kevin L. Clark, will be your go-to advocate, spotlighting all those cravings worth enjoying.
You're now tuned into This Weekend, a weekly round-up for content culture lovers and those who love to avoid FOMO.
For Friday, Apr. 22, this week's episode finds us with some freshly-discovered treasures for you, your family, and friends to get into + share with others. It contains a healthy dose of sonic vibes, this month's BET Amplified artist to know, and, of course, something streaming that's a feast for the eyes.
So bon appétit to all those true savants who are purveyors of the culture out there.
---
For Listeners Only:
Another weekend adventure means another trip with D Smoke. The Inglewood native plays his own hype man on "Glide" a new record for fans (and NBA 2K22 gamers) which he debuted on the A Colors Show platform to enjoy in tandem with his War & Wonders project. Appropriately enough, D Smoke effortlessly skates through the track, delivering confidence-boosting lines like, "I look sexy when I'm walking through this b***h, I look sexy when I'm moving through your city." This is just the right vibe to have to play through your speakers as spring showers give way to summertime drip.
What always made Pusha T different from other trap-inspired, corner boy raps was that he made it sound like high art. Whether as part of The Clipse or during his solo run with G.O.O.D Music, each effort from the Virginia rapper placed him in rarefied air alongside Jay-Z, Nas, and Rick Ross, when it comes to that brick talk. While this week's round-up doesn't include a new song from King Push, this trailer is to invoke the irrefutable dopeness of It's Almost Dry, which, according to our decoding of choice cuts from the album, is easily one of the best projects to drop in 2022. Ughk!
Ambré has been on a tear in the UK while readying her stateside debut on Kehlani's blue water road album, slated to drop later this month. In the meantime, the singer-songwriter, who has been busy making melodies next to Baby Rose and SayGrace on the Big Femme Energy Live Tour, found time to connect with 6LACK on the remix of "What You Deserve." The two sultry R&B vocalists trade affirmations to their romantic partners for nearly three minutes, making this a helpful number to put on for that significant other whose love language this song speaks to.

Special Mentions: There is also some exceptionally dope work from the likes of Shenseea feat. 21 Savage ("R U That"), ELHAE ("FYF"), Khaid ("SKI"), and an unreleased track called "Straight Off The Aux Cord," by Steve Lacy, that you cannot afford to miss.
Watch The Streams:
Controversy about Winning Time aside, we all know that anyone would pay whatever it was worth to sit alongside Earvin "Magic" Johnson. Thankfully, Apple TV+ took care of the bill, as the NBA Hall of Famer and Top 75 Player of All Time showcases, They Call Me Magic, a rare, all-access look at one of the most iconic players in the history of the NBA. The highly anticipated four-part docuseries comes alongside BET.com's chat with the legend, and upon its release on Apr. 22, viewers can witness his rise in the game to his shift into a Black business titan through intimate interviews and compelling footage.
Sadly, David Bowie isn't around to participate in this TV remake of Walter Tevis' novel or the 1976 movie of the same name. But The Man Who Fell To Earth with Chiwetel Ejiofor and Naomie Harris promises a lot of excitement and drama. As the title implies, this story revolves around an alien who lands in New Mexico in hopes of saving his dying planet, and once all gets revealed, audiences will walk away feeling as if they're ready to explore the universe, too.
Snoop Dogg will soon be called Snoop Dogg, Inc. by the masses for how many things this man can do in one day. Adding to the list is So Dumb It's Criminal, a new Peacock comedy series featuring Snoop as host, sharing the many hilarious, yet law-breaking things people will do to get ahead. Joining the iconic hip hop star is a rotating panel of friends and comedians, including Ron Funches, Loni Love, Jay Pharoah, and more, as they watch dumb criminals getting caught for doing, you guessed it, the dumbest ish.
BET Amplified Artist of the Month Spotlight:
It is This Weekend's pleasure to announce BabyFace Ray as the BET Amplified Artist for April! The Detroit-based rapper has achieved national acclaim after releasing multiple, successful mixtape releases. Unf**kwitable, marked by his slice-of-life lyrics and guest features from EST Gee, Kash Doll, Wiz Khalifa, and Pusha T.

#TeamEastside is representing the right way as songs like "What The Business Is," "Champions," and "It Ain't My Fault," celebrated his Motor City ties, nonchalant, laid-back style, and his prolific output. As this month's BET Amplified Artist, be sure to keep an eye out for an exclusive interview with the artist and learn why the Billboard charting artist has big plans for his first decade of dominance.
Live at the Experience:
The gods have united for one common cause: to shut stadiums down! New York rap phenoms Nas and the Wu-Tang Clan have announced the co-headline tour, N.Y. State of Mind Tour, for this summer and fall, kicking off in St. Louis on Aug. 30 and wrapping up at Los Angeles' Hollywood Bowl on Oct. 4. This is one not to miss, so get your tickets now, and make sure you protect your neck. (The dates are listed above.)
For those not wanting to have to watch out for the hook, so to speak, the Main Street Electrical Parade is capturing smiles as it celebrates its 50th anniversary. And on Apr. 22, at Disneyland Resort in California, the beloved occasion will officially return to bring magic to a new generation. Fans can see their favorite characters from Mulan to Princess Tiana while bringing home some memorabilia that signifies the company's golden anniversary in our hearts — and wallets. Be sure to take a host of friends and families as this one is a beautiful time to be had by all.
---
Check back to BET.com and BET Digital for more weekly installments of This Weekend.
Kevin L. Clark is a screenwriter and entertainment director for BET Digital, who covers the intersection of music, film, pop culture, and social justice. Follow him on @KevitoClark.