Texas GOP Gov. Abbott Signs Bills Targeting Elections In Reliably Democratic Harris County
The laws drag the Houston-area county back to the Jim Crow era, local official says.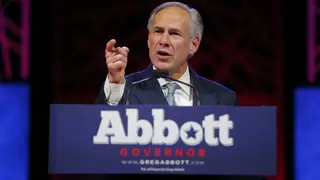 Texas GOP Gov. Greg Abbott has enacted laws that target the state's biggest county, which is heavily Democratic with a large Black American population, for election system reforms that opponents describe as a Jim Crow-era power grab.
Local Houston station KIAH reports that Abbott signed Senate Bill 1750 and Senate Bill 1933 into law on Sunday (June 18). They force Harris County to eliminate its elections administrator position and allow the state's Republican secretary of state to oversee the county's elections. They take effect on September 1, ahead of Houston's mayoral general election.
Republicans claim that election reform was needed in Harris County to fix recurring problems in last year's primary and general elections, including malfunctioning voting machines and insufficient paper ballots at several locations that media outlets said were unintentional and had no impact on election results.
Harris County officials plan to fight for the right to control their own elections – a right that all other Texas counties have.
"I'm gearing up to sue the state over these bills and I expect to be in the courts in the next couple weeks. We won't sit back and allow Republicans in Austin to target Harris County officials and disrupt our elections," Harris County Attorney Christian D. Menefee said in a statement. 
"The Texas Constitution makes clear that Texas legislators should not be abusing their power by singling out a county to address political vendettas instead of doing what's right for all Texans."
In a party-line vote on May 26, the Texas House passed SB 1750 after it cleared the Senate. The bill would require counties with a population over 3.5 million – only Harris County is that large – to eliminate the position of elections administrator and revert election responsibilities to the elected county clerk and tax assessor-collector.
Conservative lawmakers followed that with the passage of SB 1933, which would grant the office of the Texas secretary of state – an Abbott appointee – oversight of a county elections office if there are complaints about voting irregularities, and to petition a court to replace the top election officials when deemed necessary. The measure applies to any county with a population of more than 4 million. Again, only Harris County meets that description.
"It essentially takes us back to the 1940s and 50s, to the Jim Crow era. It's an act of intimidation," Harris County Commissioner Rodney Ellis, a Houston Democrat, previously told BET.com, adding that Republicans are "simply obsessed with attacking this county" and the voting rights of its residents.
Ellis said the Republicans' real motive is to reclaim the political power it once had in Harris County, which has 4.8 million residents and one of the most diverse populations across the nation, underscoring, "Anybody's path to statewide office has to come through Harris County."
"Republicans need this state to be predictably red. It can't even be purple," Ellis said. "So they're penalizing us in Harris County because we are Democrats."