How New Texas Legislation Attacks Black Voters In The Houston Area
'It essentially takes us back to the 1940s and 50s, to the Jim Crow era,' says a Harris County Official.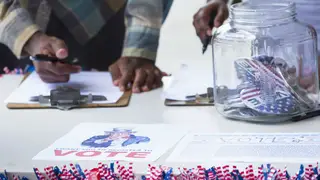 Texas Republicans appear to be making another power grab in a trend of White GOP-controlled legislative bodies seizing authority from heavily-Democratic cities of color.
In March, Texas Gov. Greg Abbott's education commissioner announced a state takeover of Houston's public school district. Texas wants control of Harris County's local election system, where the Houston area has been reliably Blue.
A pair of voting bills recently passed in the GOP-controlled state legislature and now sits on Abbott's desk. Once he signs them, these targeted measures will position Republicans to eliminate Harris County's chief election official and grant state officials authority over elections in Texas' largest county.
Election Bills Designed to Target Harris County
In a party-line vote on May 26, the Texas House passed SB 1750 after it cleared the Senate. The bill would require counties with a population over 3.5 million – only Harris County is that large – to eliminate the position of elections administrator and revert election responsibilities to the elected county clerk and tax assessor-collector.
Conservative lawmakers followed that with the passage of SB 1933, which would grant the office of the Texas secretary of state – an Abbott appointee – oversight of a county elections office if there are complaints about voting irregularities and to petition a court to replace the top election officials when deemed necessary. The measure applies to any county with a population of more than 4 million population – again, only Harris County meets that description.
GOP state Sen. Paul Bettencourt, the main sponsor of the bills, has argued that the new election laws targeting Harris County fix recurring problems in last year's primary and general elections. "Voters should have confidence in their elections, and when they see Harris County Elections Administrators botch election after election in 2022 that confidence is shaken," the Houston-area lawmaker said in a statement.
Opponents say there's a different motive behind the measures.
"It essentially takes us back to the 1940s and 50s, to the Jim Crow era. It's an act of intimidation," Harris County Commissioner Rodney Ellis, a Houston Democrat, told BET.com, adding that Republicans are "simply obsessed with attacking this county" and the voting rights of its residents.
GOP Clawing Back to Power?
Ellis said Republicans want to reclaim the political power it once had in Harris County, which has 4.8 million residents and one of the most diverse populations across the nation, underscoring, "Anybody's path to statewide office has to come through Harris County."
"Republicans need this state to be predictably red. It can't even be purple," Ellis said. "So they're penalizing us in Harris County because we are Democrats."
According to Ellis, the GOP has been methodically clawing its way back into power in Harris County. For example, before passing the two bills, Republicans ended straight-ticket voting because they believed it harmed conservative candidates.
Straight ticket voting allows voters to choose all of a party's candidates with just a single ballot mark. Republican lawmakers voted in 2017 to scrap that option. It's no wonder. Stefan Haag, a retired Austin Community College government professor, told Houston Public Media that Democrats relied more on straight-ticket voting to win elections than Republicans, and its elimination significantly impacted election success for Democrats in minority precincts in large urban counties.
Elections Administrator Under Scrutiny
Harris County created its elections administrator post after the 2020 election. Appointed by county commissioners, the administrator's duties include creating election ballots, establishing early voting centers and securing election equipment.
About half the counties in Texas utilize an elections administrator to oversee elections, while the others operate elections using elected county clerks and county tax assessors.
Problems arose in the March 2022 primary election in Harris County, despite county officials pouring millions of dollars into new voting equipment. The Washington Post reported that some voting machines failed to work, poll workers distributed the wrong-size ballots, and roughly 10,000 out of 360,000 total votes were not counted.
Voting took place against the backdrop of Republican lawmakers passing sweeping election regulations to undo Harris County's expansion of voting access during the Covid-19 pandemic. Those changes included operating drive-through early voting sites and establishing drop-off ballot locations. Republicans argued, without evidence, that those changes contributed to voter fraud in the 2020 presidential elections.
Following the 2022 primary, new problems emerged in the November 2022 general election, including some polling places running out of ballots, prompting an official investigation.
With Abbott poised to sign the new election bills, Democrats are concerned about the 2023 Houston mayoral and the 2024 presidential elections.
During the legislative process, Democrats didn't have enough votes to add amendments that would push the bill's effective date to December instead of Sept. 1, according to The Texas Tribune. Harris County Elections Administrator Clifford Tatum said the September effective date is problematic.
"We fear this time frame would not be adequate for such a substantial change in administration, and that Harris County voters and election workers may be the ones to pay the price," Tatum stated.
More election issues in the upcoming election could prompt the secretary of state to exercise oversight authority that could impact the 2024 presidential election.
Meanwhile, Harris County Attorney Christian Menefee announced on May 24 that the county will sue the state if Abbott signs the controversial legislation.
"Texas lawmakers in Austin are undermining Harris County government and targeting three, Black Harris County officials. They're blowing up our elections office and setting the stage to remove two elected officials. This is more than just bad public policy, it's bad for our democracy. 
"We're suing state officials because these bills are clearly unconstitutional – our state's constitution bars lawmakers from passing laws that target one specific city or county, putting their personal vendettas over what's best for Texans. Republican lawmakers are disregarding the will of Harris County voters. But to protect Harris County communities, our public servants, and our residents – we're going to fight."