Soaps That Will Make You And Taylor Swift Want To Wash Your Legs In The Shower
The Twitter debate on leg washing rages on, but how can you resist with soaps this nice?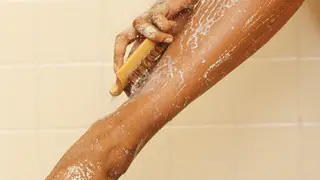 The great Twitter debate of the week is asking people if they wash their legs in the shower, because apparently a lot of folks admit they don't. While initially the consensuses were that every surface of the body should get washed, the conversation took a turn when some said it was unnecessary to scrub your legs every shower.
Soap and water running down your legs should be sufficient for legs. The topic even came up on The Ellen DeGeneres Show when Ellen decided to ask Taylor Swift if she washes her legs when she showers, to which Tay hesitated before answering, "I do when I shave my legs 'cause shaving cream is like soap right?" 
See how leg hygiene divided the Twitter users below:
According to the Daily Mail, a Twitter poll revealed "about 80 percent of people wash their legs every time they step into the shower. But there is still 20 percent of people who think it is unnecessary to bathe the area."
Well, if you fall into the 20 percent that don't and are looking for reasons to reconsider, we got you. We've rounded up a few of our favorite shower cleansers on the market that will make you want to scrub your legs all day, erry day (or at least every other shower).
See our favorite leg-friendly body washes below:
For The Coconut Oil Junkie, Try...

Dove's new Body Wash Mousse ($6, 10.3 fl. oz., available at most major retailers) with essential oils features a rich, creamy lather to cleanse, pamper and instantly nourish your skin and provide all-day softness for your neglected legs.

Don't just take our word for it, either. Dove dermatologist Dr. Mona Gohara says, "It's a great choice for all skin types as it's paraben and sulfate-free formula helps prevent dryness and it's 100% gentle cleansers ensure that skin feels fresh and moisturized for all day softness. Not to mention, it doubles as a shaving cream!"

We particularly love this coconut oil blend, and there's rose and an argan oil options too, so there's a blend for everyone.

For The Beach Bum...

Sol de Janeiro Brazilian, the brand that brought us the cult-classic Bum Bum cream, has created something equally as life-changing for the shower.

For The Vegan...

If you're looking for a little simplicity in your life, look no further than Everyone 3-in-1 Soaps ($8, 32 oz., available on eoproducts.com). These magical soaps can be used as body wash, shampoo, bubble bath, and even shaving cream. (Hello, smooth legs!) EWG verified, vegan, free of parabens and synthetic fragrances, you can feel good about using these on yourself and your entire family.

The Everyone 3-in-1 soaps are available in Mint & Coconut, Coconut & Lemon, Lavender & Aloe, Citrus & Mint and Unscented, but we're partial to the Citrus & Mint scent for the summer.

For The Guy's Guy...

If you're a guy's guy or just not into essential oils and fruity fragrances in your soap, then Dial for Men Moisture Magnet Body Wash ($3, 16 oz., available at most major retailers) is your jam.

It draws moisture directly to the skin for long-lasting, lightweight hydration and is engineered with the right balance of skin conditioners for soft legs without all the extra "soft" stuff.