Rosario Dawson Professes Her Love To Her Nigerian Beau On Instagram!
See the social media post that has the internet swooning.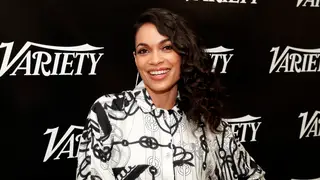 Rosario Dawson has a new beau! The actress seemingly confirmed she's in a relationship with Nigerian poet Nnamdi Okafor on Instagram after weeks of speculation that the pair were in a relationship.
"❤️‍🔥," Dawson captioned a video of herself riding on the back of a golf cart with Okafor on August 7.
After making funny faces for the camera, the pair happily professed their love for each other before briefly gazing into each other's eyes.
According to Extra TV, the video was taped while the pair were attending the Chicago Comic and Entertainment Expo this weekend.
The news outlet also reports that the pair sparked dating rumors in June when Okafor posted a photo on his IG Story showing them getting cozy. At this time, no further details about their relationship have surfaced.
FYI: In February, news broke that Senator Cory Booker and Rosario Dawson broke up after almost three years of dating.