Sen. Cory Booker And Rosario Dawson Reportedly Call It Quits After Nearly Three Years Together
The New Jersey lawmaker and the actress tried to build a relationship while juggling busy schedules.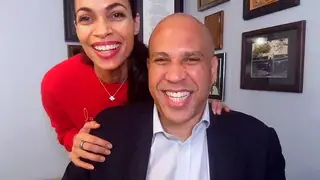 Sen. Cory Booker and his girlfriend Rosario Dawson are breaking up after nearly three years as a couple, PEOPLE reports. It's an amicable split, and the New Jersey lawmaker and the actress plan to remain friends.
Dawson and Booker met in the summer of 2018 at a political fundraiser for then-Maryland gubernatorial candidate Ben Jealous, The Washington Post reported. They didn't quite hit it off at first.
"There was no love connection there," Booker, now 52, recalled. "I think it was the places of life we were in. I was probably dating somebody when we first met."
But they later found a connection in October 2018 when Dawson and Booker had a second encounter.
"I mean, gosh, that night we talked for hours and hours," Booker recalled.
A bit shy, the lawmaker hesitated to ask Dawson for her phone number that night. "I think I said something really stupid like, 'Uh, how would I get in touch with you?' And she mercifully said something like, 'Oh, you want my phone number?' And my insides were like, 'Hell, yeah!' " Booker recalled.
But Dawson saw something adorable about Booker's dorkiness. She said, "He's so charming and so confident and so capable, but it's not like that translates to being some super-smooth kind of guy. That's not his style. What wins me over with him is definitely the dad jokes."
It's challenging for a couple with busy schedules to build a relationship. In addition to his Senate work, Booker ran a 2020 presidential campaign. Dawson, 42, co-founded the Hispanic voter outreach organization Voto Latino, co-founded fashion brand Studio 189, and her Hollywood resume includes Men in Black II, Rent, and Hulu's Dopesick.
The pair stayed connected through weekly meet-ups, FaceTime calls and Booker keeping the romantic flame burning by reading to Dawson on the phone and sharing music with her, according to PEOPLE.
President Joe Biden once expressed his hope that the couple would eventually tie the knot.
During an interview on Live with Kelly & Ryan, Dawson said during Booker's run for president, Biden showered the senator with praises and offered her some words of wisdom.
"He kind of pulled me aside and just had the most beautiful and effusive things to say about Corey. He was talking about, 'I married up, I hope he marries up.' He's very charming. It was really, really nice…to see the kind of respect and dignity that's there between all of these folks as colleagues."