Oscars 2022: Your Guide to Everything You Need to Know
We're filling you in on everything you need to know about the Oscars.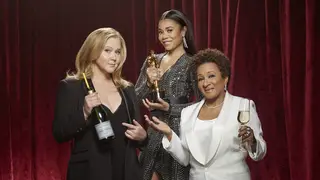 Award season is always filled with big wins and upsets, and as we begin to wind down from the exhilarating rush, we want to make sure you don't miss one of the biggest nights in Hollywood with the 2022 Oscars. Do you really want to miss the moment of possibly seeing Will Smith or Aunjanue Ellis delivering their victory speeches? The answer is no, and yes, we're going to manifest them both leaving with a golden statuette.
Ahead of the ceremony, which takes place on Mar. 27th at 8:00 p.m. ET, here is your all-access guide to everything you need to know about the upcoming gala.
The Ladies Are Running The Show This Year
With Jimmy Kimmel being the last Oscars host of note, four years have passed and now the Oscars have decided to make up for the pandemic-stricken year with not one, but three hosts — Regina Hall, Wanda Sykes, and Amy Schumer.
The talented trio will take center stage on Mar. 27th with Will Packer producing the 2022 Oscars telecast. Already, Hall has had an exceptional year with films like Master and Honk for Jesus. She received great advice from Whoopi Goldberg about hosting this year, telling the actress to "have fun" and "celebrate why you're there."
How to Watch the Oscars on ABC... Or Via Streaming
If you're not able to make it to Hollywood this weekend, don't fret. You can still be a part of the Oscars experience as the three-hour extravaganza will air at 8 PM EST on ABC. Don't have cable? Don't worry. You can also stream live on Hulu, FuboTV, or any streaming service that allows you to access live television programming.
Will Smith Could Become Oscars Black Trivia
Despite being one of the best actors of our time, Will Smith has yet to receive an Academy Award of Merit. He recently told The Blast how he wished his film The Pursuit Of Happyness received an Oscar for his performance as he deemed the movie as the "best film" he's ever done. While this may be true, he still delivered in King Richard and it would be a cultural moment to see the Fresh Prince alum walk away victorious.
There's No Black Actress in the Best Actress Category
So many amazing Black leading ladies this year with top-tier projects and once again, we have no representation in the Best Actress category. So nobody in The Harder They Fall from Regina King to Danielle Deadwyler to Zazie Beetz deserved a nomination? Does Tessa Thompson and Ruth Negga getting "passed" on after delivering amazing chemistry and powerful scenes in their film Passing make sense? Absolutely not.
Wanda Sykes Makes History As Oscars' First Black Queer Host
Times are changing and for the better as legendary comedian, Wanda Sykes, becomes the first Black queer host in Academy Awards history. This should be a highlight that's celebrated as this will hopefully open the door for other queer creatives to have the chance to host one of the prestigious events of the year.
---
Ty Cole is a New York-based entertainment reporter and writer for BET.com who covers pop culture, music, and lifestyle. Follow his latest musings on Twitter @IamTyCole.