Ex-NYC Mayor Bill de Blasio and Wife Chirlane McCray Separate
The couple reportedly will continue to live in the family home while dating other people.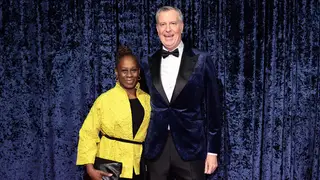 Former New York City Mayor Bill de Blasio and his wife Chirlane McCray are splitting up. Well, sort of.
The two, who share two children, Chiara, 28, and Dante, 25 are separating after nearly 30 years, as reported by The New York Times. But they assert they are not divorcing, and will live in their family home where they raised their children while seeing other people.
According to the news outlet, de Blasio reveals that his busy work life as mayor caused their relationship to crumble. "Everything was this overwhelming schedule, this sort of series of tasks," de Blasio said. "And that kind of took away a little bit of our soul."
The former mayor told the news outlet respectively that he can pinpoint areas within his life that should have yielded necessary conversations to prevent the split from becoming a reality.
"I can look back now and say, 'Here were these inflection points where we should have been saying something to each other,'" he said. "And I think one of the things I should have said more is: 'Are you happy? What will make you happy? What's missing in your life?'"
De Blasio also cites the pandemic as another cause for the crack in the relationship. During that time, he began seeking guidance from a therapist as he and McCray became incompatible.
"It made me emotionally very needy," he said of that period of the pandemic, "and we were not as connected."
McCray says that de Blasio's run for president in 2019 "was a distraction" that added to their inner turmoil, as she thought it was an ambition that would cause more pain than triumph.
Of being a first lady in the eyes of the public, McCray said, "How can you be a couple in the fullness of what you tend to think when you've got this responsibility on your shoulders and you don't want to add to that?"
But now as a single woman, McCray is looking forward to a new lease on life. She told the outlet, "I just want to have fun," adding, "There's a certain weight that goes with being with Mr. Mayor."
Their love story began as colleagues who worked for David N. Dinkins, the first Black mayor in New York City's history. Although McCray identified as a lesbian at the time, the two began dating and took their relationship to the next level in 1994.
Looking back on his decision to date a woman who was a proud lesbian, he told the outlet "For the guy who took the chance on a woman who was an out lesbian and wrote an article called 'I Am a Lesbian,'" de Blasio added, "there was a part of me that would at times say, 'Hmmm, is this like a time bomb ticking? Is this something that you're going to regret later on?' So I always lived with that stuff."