Kanye West Is Caught In The Middle Of His Dad's Divorce Drama
Not fun, no matter how old you are.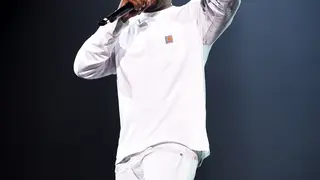 Kanye West is caught in the middle of a domestic violence dispute between his father Raymond West and his stepmother, Cheryl West.
According to documents obtained by RadarOnline, Cheryl accused her estranged husband of being abusive and cited his abuse as the cause of their divorce. "I wanted this marriage to be over because Raymond West was emotionally and physically abusive," she explained.
Detailing a number of incidents where she was allegedly abused, West claimed that her ex beat her with a belt and even recounted an instance where he attacked her and "tried to physically" remove her wedding ring. One of the frightening experience allegedly came after her mother's death in 2009. West accused her ex of telling a relative that "he could make me disappear. This was a threat on my life," she added.
Kanye West was brought into the dispute by his step sister, Shaleim Henry. "He's Kanye West's dad. And it just seems to me that when the fame arrive, he disappeared."
Raymond and Cheryl West wed on Valentine's Day in 1998 and have since filed for divorce multiple times before their divorce was finalized nine months ago.