Chrissy Teigen, Gabrielle Union And More Who Have Been Outspoken About Their Fertility Struggles
These 10 celebrities get candid about infertility.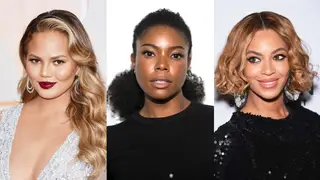 It's kind of crazy how, just by occupying a human female body, other people think they have the right to opine on your physique, your attitude and your place in the world (among a host of other things), but it's an unfortunate reality.
No one knows this better than female celebrities. Once someone ascends to celebrity status, the world thinks that they deserve to know every last detail about their lives, including, but not limited to, one of the most sensitive topics imaginable: fertility and child-rearing.
Being the sole providers of life can cast an enormous weight upon women, which is only heightened by the stigma about openly expressing and talking about it. It makes it all the more meaningful when women with a platform voice their struggles, which is not an easy thing to share with the entire world. Below are 10 women who have experienced fertility struggles and have had the immense courage to talk candidly about it.
Gabrielle Union

From her new book: "I have had eight or nine miscarriages," Union, 44, writes in the book. "For three years, my body has been a prisoner of trying to get pregnant — I've either been about to go into an IVF cycle, in the middle of an IVF cycle, or coming out of an IVF cycle."

"For so many women, and not just women in the spotlight, people feel very entitled to know, 'Do you want kids?'" she says. "A lot of people, especially people that have fertility issues, just say 'no' because that's a lot easier than being honest about whatever is actually going on. People mean so well, but they have no idea the harm or frustration it can cause."

"Once a month I look like I'm in my second trimester because I'm bloated. It leads to the questions and it leads to the rumors and anytime I go into a doctor's office I feel like I'm a member of SEAL Team Six undercover because I don't want people to speculate."

Beyoncé

From 2013: "About two years ago, I was pregnant for the first time and I heard the heartbeat, which was the most beautiful music I ever heard in my life. I picked out names, I envisioned what my child would look like ... I was feeling very maternal. I flew back to New York to get my check up — and no heartbeat. Literally the week before, I went to the doctor, everything was fine, but there was no heartbeat. I went into the studio and wrote the saddest song I've ever written in my life. And it was actually the first song I wrote for my album. And it was the best form of therapy for me, because it was the saddest thing I've ever been through." 

Chrissy Teigen

From 2015: "I can't imagine being that nosy, like, 'When are the kids coming?' because who knows what somebody's going through, who knows if somebody's struggling? I would say, honestly, [that] John and I were having trouble. We would have had kids five, six years ago if it had happened, but my gosh, it's been a process."

Tyra Banks

"We're kind of going through this similar thing [to Chrissy Teigen and John Legend] with IVF. And you know, putting needles in your tummy every day and having to come to work and smile when you feel like you want to throw up and lay down...I can't believe I'm saying this right now."

"I am so tired of seeing on my social media, 'Why don't you have kids? Why don't you have kids?' You don't know. You don't know what I'm going through."

Angela Bassett

From 2013: "After trying and trying, I unfortunately couldn't have my babies. It was my reality. I heard about the surrogate option and it worked out beautifully."

Mariah Carey

From 2012: "The main thing I did that was tough was to go on progesterone like every month...and then when I was pregnant, I had to stay with the progesterone for 10 weeks. It minimizes the chance of miscarriage by 50%."

Iman

"People talk about the miracle of birth. No. There's the miracle of conception. I did IVF, but nothing happened. So I began to think of adoption and then I got pregnant. It was definitely a miracle."

Remy Ma

From Love & Hip-Hop: "I promised my husband that I would give him the child that he's been asking me for since almost the day he met me and I can't do that any more."

Khloe Kardashian

From 2013: "About a year ago, we were like, 'Let's just see what happens.' And then, when it didn't happen, Kim was like, 'Let's go to the doctor. I found out I don't ovulate and now my uterus lining isn't thick enough and I have to take pills to make my uterus lining thicker. If that doesn't get thicker, then I cannot carry a baby.'"

Kim Kardashian

From 2015: "I didn't know that I was going to be so open with [my fertility challenges], but meeting people at my fertility doctor's office who are going through the same things I'm going through, I thought, 'Why not share my story?' It's been really emotional ... There are definitely times when I walked out [of the doctor's office] hysterically crying, and other times when I was like, 'OK, everything's looking good, it's going to be this month!' The waiting and waiting has been a roller coaster."

"It was over a year of trying and I had so many complications. I had this condition called placenta accreta. There were a couple of little operations to fix all that, so that created a little hole in my uterus, which I think made it really tough to get pregnant again. It was a long road. I would go to the doctor in Beverly Hills every day at five in the morning to get tested to see if I was ovulating. I was trying everything: I did acupuncture and got a nutritionist to eat healthier, thinking that was an issue."