Man Charged In Connection With Mac Miller's Death Facing 20 Years In Prison
Prosecutors will charge the late rapper's drug dealer for supplying counterfeit drugs.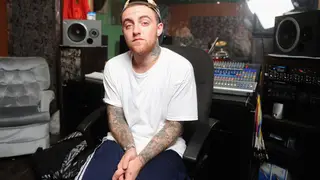 Authorities will charge Cameron Pettit of Hollywood Hills for selling Mac Miller counterfeit drugs containing fentanyl, which lead to his early death two days after the sell. 
Miller, born Malcolm James McCormick, was found unresponsive in his Studio City home on September 7, 2018. He was pronounced dead on the scene. He was 26 years old. 
The Los Angeles County Medical Examiner-Coroner later determined the Pittsburgh native had suffered an accidental fatal overdose of fentanyl, cocaine and alcohol. Investigators believe that the rapper died after snorting the counterfeit pills. 
According to the criminal complaint filed in the  United States District Court in Los Angeles, Pettit, 28, allegedly agreed to supply Miller with oxycodone pills, cocaine and Xanax, but instead sold him counterfeit oxycodone laced with fentanyl, a synthetic opiate estimated to be over 50 times as powerful as heroin. 
He was apprehended early Wednesday morning. 
The criminal complaint contains Instagram private messages from Pettit to a friend, saying, "Most likely I will die in jail." According to prosecutors, when a friend asked Pettit how he was doing following Miller's death, Pettit replied, "I think I should probably not post anything ... just to be smart."
If convicted of the drug trafficking charge, Pettit faces a maximum penalty of 20 years in prison.
His indictment also includes one count of distribution of a controlled substance.
Fentanyl, often mixed into black-market supplies of cocaine, heroin, methamphetamine, fuels the opioid crisis across the nation. 
"Fentanyl disguised as a genuine pharmaceutical is a killer," said U.S. Attorney Nick Hanna in a press release. "Drugs laced with cheap and potent fentanyl are increasingly common, and we owe it to the victims and their families to aggressively target the drug dealers that cause these overdose deaths."
Other musicians, including Prince, Tom Petty and Lil Peep, have reportedly died from accidental overdoses involving the drug.